Emerging companies are more active in the touch.
In this round of led enterprise e-commerce, compared with traditional well-known enterprises, emerging companies and emerging brands are more active, and also achieved better sales results than traditional strong brands.
LED companies have turned their attention to the e-commerce channel, which seems to be a new channel for the entire industry, but in fact, the time for LED companies to touch the network is not short, which can be seen from the two sets of data.
One is to enter the "LED" keyword in Taobao. As of May 22, there will be 2.35 million treasures, 52,000 stores, and the same Tmall search for Ali, the number of related products is as high as 7817, while the search for "LED" in Jingdong Mall, up to 17,589 commodity. The large number of products is certainly not the result of short-term operations.
The second is LED companies that have been successful through online shopping. For example, Shenzhen Zhouming Technology officially entered Tmall on January 4 this year. The sales in the month reached 70,000 yuan, and the sales in the next month were 90,000 yuan. The explosive growth has reached 200,000 yuan. There are also Shanghai Hanyuan Lighting series 3W led downlight integrated ceiling lamps monthly sales have exceeded 40,000, super bright SMD3528 patch led lights with monthly sales of more than 70,000, the rest of the lighting products are also very popular.
Despite these figures and achievements, different companies have different attitudes toward the "new" channel of e-commerce. Leading Philips, NVC, and Tsinghua Tongfang in the industry have begun to actively deploy e-commerce channels, but more are still in the card position. Because the traditional channels of these leading companies are very mature, mainly for professional channels such as designers, design institutes, and large engineering projects, e-commerce channel sales account for only a small part. At present, there is still a lack of motivation to tap the e-commerce channel, and sales are not satisfactory. A Shenzhen led lighting company CEOs, said: "Our led lights in Jingdong Mall with monthly sales at almost 20,000, can do the sales charts in the peer, but 20,000 light fixtures and we laid down the amount of lines Compared to it, it's just a glimpse."

However, emerging companies and emerging brands are different, and e-commerce is almost the only life-saving straw they can catch. Pan Yunce, head of Shanghai Hanyuan Lighting Sales Department, said, "We have brand stores in Tesco, Jingdong Mall, No. 1 and other e-commerce platforms. Now we are focusing on e-commerce channels, and we have not established physical stores. It is more difficult to establish. "At present, Hanyuan Lighting's products are mainly sold through e-commerce channels, with a warranty period of two years, in addition to providing OEM business.
Pan Wenbo, founder of Guangzhou International Lighting Exhibition, pointed out that this round of LED enterprise e-commerce is more active than traditional well-known enterprises, emerging companies and emerging brands, and has achieved better sales results than traditional strong brands.
A few pieces of chocolate play a big role
Online shoppers like to buy those that are not the highest price, not the lowest, but just good.
For the view that emerging companies prefer e-commerce channels, Mei Zhimin, director of Shenzhen Yuanming Technology Brand Department, strongly agrees.
Before entering the e-commerce channel, Yuanming Technology has already figured out its own sales positioning and competition strategy on the Internet. Mei Zhimin said, "We didn't set the position to compete with Ao Duo (the leading brand in online sales), but more emphasis on the distance between Taobao and Xiaobao. Because of the line and the line. There is one biggest difference. The offline consumers go to the lighting market, either go to Otto or go to the cheapest hardware stores. There is no middleman. Online is different. Online shoppers like to buy those prices. The highest, not the lowest, but just the middle. Yuanming is to choose this positioning, providing a cost-effective product, and quickly won the recognition of online shopping consumers."
According to Liu Wei, general manager of Tsinghua Tongfang Lighting Division, "Online shopping has become the first choice for young people. Now many LED companies have established their own network sales channels. The e-commerce channel will impact the existing advantages of traditional channels in the next three years. Status, and by 2018 is likely to replace the traditional channels to become mainstream." But LED companies that have not touched the net choose which way to touch the network, this is a problem that enterprises need to think about. Because there is no traffic in the self-built mall, and enter the platform of Tmall, Jingdong, Amazon, etc., there will be no natural traffic, and it is necessary to do marketing according to the rules of network marketing.
In solving traffic and conversion rates, Mei Zhimin's solution is a few pieces of chocolate. Mei Zhimin said: "The company now mainly uses e-commerce to drive the brand. At present, it has made 8 micro-movies, all of which are small short plays. Among them, "The Story of Two Chocolates" is the love of chocolate, telling about changes under incandescent lamp and led the fate of the chocolate. this skit been viewed nearly 50,000 times, and the cost is a few pieces of chocolate. inspired by this, we do a series of similar micro-film, come together on the Internet A whole, it plays a very good role in brand promotion."

The purpose of branding is to attract traffic, but the methods commonly used by e-commerce companies to attract traffic must also be adopted. The view of Yuanming Technology is that there will be sales in order to be ranked. "We started to make promotions, and we promoted the Taobao's homepage to attract people's traffic. For example, the Ya'an earthquake some time ago, click on the store to collect my money, the company will donate 1 yuan. In this way, the entire search ranking will be based on your collection. Traffic, your popularity goes forward. In this regard, Taobao has a supportive policy. For new businesses, there are certain traffic care and support for differently positioned businesses, such as listed companies, small commodity enterprises, and innovative enterprises. "
In addition, Yuanming Technology itself will also do some promotional activities. For example, the ceiling lamp, the initial price is 9.9 yuan, and now the price increase to 34 yuan. At the beginning of the sale, 5,000 were sold in the front, and nearly 1,000 were sold by the money. The purpose is to flush the traffic first, and the traffic will rush to a good position.

LED transaction network (LED B2B .COM) - the authority of the Chinese led display, LED lights, LED lighting, led energy saving lamps, led lights, LED TV, LED trading network to actively promote the industry led the development of China's LED industry network
XLPE Insulated Al Alloy Interlocked Cable is kind of cable, in which the rare earth high compressed aluminum alloy is used as conductor, and PVC is used as Jacket wound around. The insulation adopts XLPE material, featuring with high stability and flexibility. Outside the inner wrapping is the self-locking armour, which boasts of superior economic performance. The whole structure is designed and manufactured elaborately based on advanced international technology and equipment. This cable removes the defects of aluminum cable systematically. And the great flexibility allows this cable to be bent at the corner. With easy installation, it presents excellent mechanical performance and large circuit transmission capacity.
Standard: GA306 Jacket: PVC
Conductor: aluminum alloy Cores: single core or multicore
Insulation: XLPE Feature: flame retarded
Wind: embossing polyester tape wrapping
Armour: interlocked aluminum alloy armour
Rated voltage: 0.6/1KV, 8.7/10KV, 8.7/15KV, 26/35KV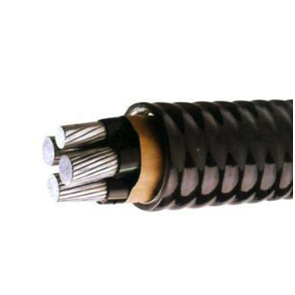 Advantages:
Easy to bend

Light weight

Easy installation

Long life span

Flame retarded

Decent mechanical strength

Creep resistance

Impact resistance

Zero halogen & low smoke

Corrosion & abrasion resistant

...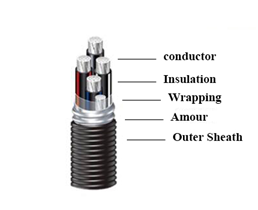 Application:
Public amenities such as theatres, cinemas

Mines

Transport hubs (railway stations, airports etc.)

For civil use

For commercial use

For industrial use

Schools

Large venus

Electrical equipment in hazardous areas

And many more...
Welcome to visit our factory to learn more about us. If you have any questions, please feel free to contact us.
XLPE Insulated Al Alloy Interlocked Cable
XLPE Insulated Al Alloy Interlocked Cable,Al Alloy XLPE Interlocked Armoured Cable,Interlocking XLPE Insulated Cable,Interlocking XLPE Insulated Cable
Fujian Lien Technology Co.,Ltd , http://www.liencable.com