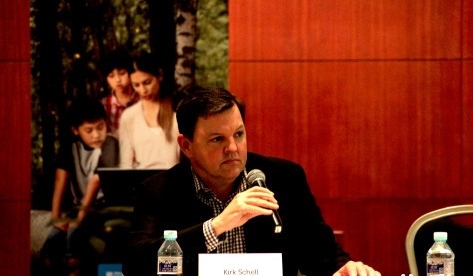 On August 27, Dell released its end-to-end solutions at the Dell Summit in Beijing, from new data centers to laptops, and service and localization software solutions.
Dell took the lead in launching the Latitude7000, Latitude5000 and Latitude3000 series of new ultrabooks and notebooks in China, fully demonstrating Dell's emphasis on the Chinese market. After the meeting, the author had the privilege to interview that Jeffrey W. Clarke, vice president of Dell's global operations and end-user computing solutions division, and Kirk Schell, vice president of Dell's commercial computing group, selected Peter Marrs, executive director/general manager of Dell's end-user computing business unit. Sir, they will answer reporters' questions about Dell's development strategy in China.
Dell is transforming from a hardware provider to an enterprise solution provider.

Mr. Jeffrey said that Dell is currently in the process of transforming from a traditional hardware provider to a full-service provider of enterprise solutions. The solution provided by Dell has a high degree of overall safety and reliability. Today, we first released the Latitude 7000 series of commercial ultrabooks in China, which fully confirms our commitment and attention to the Chinese market. The Latitude 7000 series products are also the industry's highest security, reliability and manageability that we bring to our customers. Products, and this product is tailor-made for the commercial market.
The PC market is still optimistic about the long-term, and tablet and tablet combo products will be launched in the second half of the year.
At present, the PC industry is declining, but I think that in the long run, the PC is still showing a trend of growth. I particularly want to share the usage rate with you. In some countries with growth, the penetration rate of PC is still only 30%. In mature countries, the PC usage rate reaches 80%. In fact, if you care about the PC industry's sales, you will find that the PC industry's sales are still growing. This includes: tablets, laptops, and desktops. So in the past few years, the PC industry has maintained a growth in sales, and this trend will continue to continue, and we also saw a significant change in the PC industry, that is, the use of the PC industry is changing Therefore, the user's preference for PC size will determine the future direction of the PC industry. This is why we have focused on XPS 12, XPS 10 and Latitude 10 products.
These products can be used as a tablet computer, and can also be used as a two-in-one product, that is, the function of a tablet computer and a notebook computer at the same time. This is also the current trend. From the current point of view, consumers prefer to see the performance of their laptops and tablet PCs. So, if you take note, the types of products we introduce today and the type of products we will introduce in the second half of the year will also be developed in two ways. One is a traditional tablet, and the other will be transformed into traditional In the sense of the use of laptops, that is, they can play the functions of tablets and laptops at the same time. We think this is a trend that is currently emerging, and it can also be said that there are new trends in usage patterns.
Providing differentiated BYOD solutions, the commercial market continues to grow.

Dell has been adhering to an idea to help customers and their IT department, which is Dell's core strategy. In terms of PC end users, we hope that Dell's products will be more applicable to BYOD trends. We will implement it in a number of ways, first through solutions that allow customers to install on site, which will enable users to increase their productivity. Second, we can use software to allow customers to encrypt data on the system so that they can better protect office and personal data. Dell acquired WYSE (Desktop Virtualization Enterprise) six months ago, which allows Dell to provide a series of virtualization-based solutions that can better meet BYOD needs. Including, can make the cloud data manage better, at the same time emphasizing the data access and storage of the cloud. Specifically, it also includes public clouds, customer-specific clouds, and private clouds. Through this virtualization, we can provide solutions that are significantly different from our competitors and that target BYOD.
The decline in the speed of personal computers exceeds that of commercial computers, and Dell has suffered much less impact than other computer manufacturers. Dell is the only computer manufacturer that has been able to maintain growth in the past three quarters and is also a manufacturer that can achieve quarterly and quarterly growth. In the first half of this year, Dell's commercial computers have occupied every major market share in the world. In addition, the annual growth rate of our business computers throughout the Asia-Pacific region has been a proportional increase, which means that our market share in the Asia-Pacific region has not been reduced and we have achieved annual growth. In addition, in addition to commercial products, another growth point is the workstation. At present, we are ranked first in the Chinese market for workstations.
IT managers need to deal with the needs of mid-end users, PC Tablet combo products really call it good or not?


When Dell introduced the commercial tablet combo product, we all thought it was an exciting thing. Of course, we did not give up commercial notebooks. The Latitude 7000 and Latitude 5000 series of commercial notebooks announced today fully confirm our commitment to the commercial notebook market. But in any case, IT managers must also constantly respond to the demands placed on them by mid-range users. Therefore, we have seen some mid-end users make some requests, especially in the BYOD environment, and hope to use some of the consumerized products through tablet computers.

Dell commercial tablet, Latitude series products, will not give up the windows platform!

Dell's commercial tablet PCs, Latitude series products will not give up the windows platform, Dell will not change this strategy. Latitude 10 commercial tablet adopts windows8 system; XPS 10 adopts Windows RT system. In fact, these products can be said to be cross-border products. It can also be used as a personal tablet in the BYOD environment, and can also be used as Corporate tablet. In the future, we will announce a series of products specifically targeting the Chinese market. These products are manufactured for the Chinese market and can meet the needs of Chinese consumers. But at the same time these products will also be pushed to other countries, but to meet the Chinese market is the first.
Yageo Capacitors,Yageo Smd Capacitor,Chip Capacitors,Yageo Ceramic Chip Capacitors
JINGGANGSHAN MEICHENG ELECTRONIC TRADING CO.,LTD , https://www.meicheng-tra.com