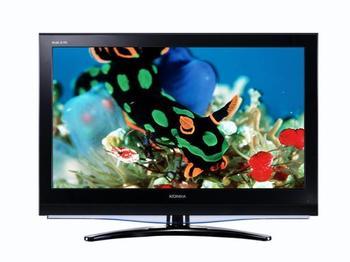 With the arrival of the Mid-Autumn Festival and the National Day, color TV sales have entered the traditional sales season. Hisense, Konka, and other companies have intensively released new products. Samsung, Sony and others have plans to launch promotions by October. The OLED TV, a high-tech television product that represents the "new era" of future imaging devices, also officially met with Chinese consumers this month. According to the calculation data of Yikang, the sale of color TV in the Golden Week will reach 4.85 million units.
In the second half of the year, the growth of the holiday market showed that the retail sales of color TV reached 24.55 million units in the first half of 2013, an increase of 34% year-on-year. The first half of the year saw extraordinary growth. In June, it was subject to the termination of the energy-saving subsidy policy. With the advent of the peak season of gold, silver and silver, home appliance manufacturers frequently push new products to inject new vitality into the market. Under the backdrop of the overall lack of growth in the second half of the year, consumers are paying more attention to holiday spending. The 2013 National Day will be the highlight of the market in the second half of the year.
In the second half of the year, Yikang expects the retail sales of LCD TVs to maintain negative growth year-on-year, which will be stimulated by holiday promotions. The market will also perform well during the National Day holiday, temporarily relieving the market downturn but unable to reverse the trend. It is estimated that in the holiday market of three weeks from September 16th to October 6th, the size of color TV market will reach 4.85 million units, which is basically the same as last year, in which the retail volume of LCD TVs will reach 4.7 million units.
Changing large dimensions and heightening clarity into future market trends Consumers are increasingly pursuing the viewing and sensory effects of television. "Large size" and "high-definition" have become the main force for household appliance companies. Data show that in terms of product size and structure, the 46-inch shipment during the National Day will increase the intensity of the project, is expected to share 46% of retail sales of products in the city market will occupy 38%, in the national market will occupy 34%.
UD ultra high-definition television has experienced exponential growth since its launch. In July, the penetration rate of UD products over 50 inches has exceeded 6%. In the future, the rapid rise of ultra-high-definition television will disrupt the product structure of the entire industry. In 2013, the retail volume of UD ultra-high-definition TVs is expected to reach 900,000 units.
From the perspective of market distribution, smart TVs surpass 3D TVs both in market size and growth rate, and this trend will become more apparent in the second half of the year.
Branded local companies are not paying attention to high-priced products in the Chinese smart TV market. Due to the impact of local brands, Samsung is still concerned about the championship, but the proportion of attention continues to decline.
At the same time, August data showed that Hisense ranked among the top three brands in the list and ranked second.
At present, smart-television prices have seen price-reduction signals. The total number of commercially available products is 394, of which 49 are price-reduction products, and there are 10 products with price reductions of more than 600 yuan.
Taking the Samsung UA60F8000 as an example, this 60-inch, 1920×1080 resolution LED smart TV was quoted at 23,999 yuan in early August and is now 20,899 yuan, a drop of up to 3,100 yuan. In addition, when consumers purchase TVs, they are most concerned about the price range of 5001-8000 yuan.
Most concern color TV brands Samsung, Hisense, TCL, LG
Sharp, Konka, Lenovo, Skyworth recently released LG: China's first OLED surface TV Recently, LG Electronics officially launched the first LG curved OLED TV in the Chinese market, which could be said to open a new door for the entire industry and lead the TV into a new era. As the world's first surface-designed OLED TV, LG curved OLED TVs have been marketed in South Korea, the United States and Europe.
OLED (Organic Light Emitting Display) is an organic light emitting display technology, and the OLED TV has the characteristics of thin thickness, high contrast, rich colors, high resolution, wide viewing angle, and screen curling. Compared to traditional TVs (CRT TVs, LCDs, LED LCD TVs), OLEDs have two prominent features: thin as flaps and foldable folds.
This curved OLED TV is a 4.3mm ultra-thin body with a transparent crystal base. The TV's sales price is set at 59999 yuan, and it has been exhibited at home appliance stores such as Suning.
Recently, Hisense VIDAA and VISION smart "Gemini" new products were released in Beijing. The two series of smart new products cover more than 10 specifications from 39 inches to 85 inches, and will cover smart, 4K, and large screens.
75, 85-inch large-screen product software system using Hisense VISION control system, 85-inch products in the industry to take the lead 4KUI, and upgrade VisionTV to version 2.0, interactive multi-screen, film and television search, NFC "touch" technology, etc. Aspects of the upgrade.
The K680 series 4KVIDAA product is an upgrade of K600 series VIDAA products successfully launched on May 1 this year. 4KVIDAA screen resolution up to 3840 × 2160, for the first time to achieve USB, HDMI interface 4K read. 4KVIDAA also greatly improved in hardware configuration, with a strong dual-core CPU quad-core performance GPU.
In terms of software systems, 4KVIDAA has extended the "four-button direct" logo design. This subversion of the traditional smart TV minimalist control method has not yet been surpassed.
Classic Samsung: UA55F8000 push package sales Samsung TV has been the "leader" of the smart TV market's most concerned brand, and the Samsung UA55F8000 smart TV has become the product with the highest consumer attention.
It is reported that F800's unique new moon time design, quad-core hardware intelligent system, active 3D technology, and HSBC Internet TV can be said to be the best smart experience.
It is reported that Samsung has launched a large-scale dual-promotion campaign, Samsung's all stores will be launched before October 8, the "appliance package solutions", the main three packages: full 12888 yuan, 21888 yuan, 38888 yuan, will receive a gift The "home health package" worth 1290 yuan, 2199 yuan, and 4980 yuan includes imported vacuum cleaners and air purifiers.
Promotional collection of Samsung's flagship or best-selling products, television covers F7500, F8000 full-size models and all 60-inch models, features include smart, 3D, voice gesture control.
Sony:
KDL-42W650A picture quality promotion as a mid-range main product, Sony LCD TV KDL-42W650A, is a new product released earlier this year, using the Sony sharp image processing engine PRO, through the internal database of image contrast, color And the sharpness is optimized to effectively improve the image quality of the television.
At present, the minimum price of this TV is 4,249 yuan, which is a good choice for those who are seeking TV picture quality.
Affordable choice Konka: Launched an online 8-core ultra high-definition television aimed at "after 80′′, especially for young consumers after the "85′s", Konka launched a brand new online brand KKTV and a series of television products, this time launched two models Products 55K60U and 39K60U, this is the first 8-core 4K Ultra High Definition TV in the brand on the color wire.
KKTV set up an open platform and reached cooperation with iCNTV, covering 14 major sections such as movies and TV shows, over 500,000 hours of video resources, and built-in live broadcast viewing functions.
KKTV in the marketing model, from product launch, promotion and channel sales, all through the Internet to complete. In addition to the official e-commerce platform, it is also sold at Jingdong Mall. The 55-inch product will be available on September 24 and the 39-inch product will be available in October. One 55-inch price of 6666 yuan, 39 inches 3333 yuan.
Skyworth: Cool open TV 42 inches for only 1999 yuan ago, Skyworth Group joint Internet company Alibaba, released online brand cool open TV. Cool TV is equipped with Skyworth Tianci System and Aliyun OS products to ensure rich video and application content, while built-in Ali's cost-effective, Alipay, utilities, and other applications provide the foundation for the family's Internet life.
This cool open brand launched a total of three TVs, namely 42-inch 2D Youth Edition, 3D Dream Edition and 55-inch 3D version. The 42-inch Youth Edition is priced at as low as 1999 yuan and 55 inches at 4,999 yuan. It is understood that the product engineering machine will start on October 1 at CoolTV official website and Tmall.
Constant current strip/IC flexible strip/Ic Constant Current Led Strip Light also known as led IC digital lights and other terminologies, the product is constant current IC single point of control, the selection of wafer 5050RGB SMD LED beads, placement in FPCB (flexible printed circuit board), the folding pliable waterproof rating to IP68, length of 5 meters per roll, light bar with 3M adhesive tape or snap screws, IC Constant Current Led Strip Light used low-voltage DC power supply safe and convenient, light color colorful.
IC Constant Current LED Strip Light flexible substrate FPC is soldered LED, and a peripheral circuit is formed, can chase,
Running water, Symphony, display and so on. Mainly used in KTV, hotel, home decoration.
IC Constant Current Led Strip Light, usually WS2801, WS2811, TLS3001, TM1809, TM1812, LPD8806, LPD6803, TM1903, DMX512, UCS256 control IC and other ways changes.
LED use is generally 5050RGB package 3528RGB package two.
Product operating voltage is generally DC12V and DC5V two kinds of more.
IC Constant Current Led Strip Light Lifespan:
Theoretically 100000H, but different ambient temperature and humidity, resulting in the product life and no practical application 100000H; good selection of LED light strip Symphony, per thousand hours of light fades only about a few percent, and almost you can reach three percent forty big gap. Mainly to see the manufacturer of the product quality control.
According to the product environment is generally divided into paste with 3M glue and fixing clips and screws in two ways.
We focus on LED area, is a high-tech lighting enterprise deal in develop, produce and sales.
IC Constant Current Led Strip Light, applications: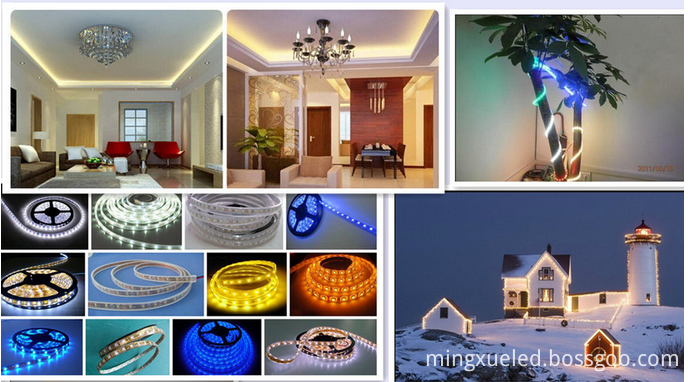 Owns DIP LED,SMD LED professional production lines and LED lighting products lines, For IC Constant Current Led Strip Light, the produce volume per month for DIP LED,SMD LED is 50 million pieces, for LED flexible strip light is 500 thousands meters, for LED flexible strip light for car is about 200 thousands pairs, for LED tube light is 50 thousands pieces, for LED Spotlights are 200 thousands pieces, for LED ceiling light are 50 thousands pieces.

Mingxue Optoelectronics Co.,Ltd. has apply the I S O 9 0 0 1: 2 0 0 8 international quality management system certificate, For IC Constant Current Led Strip Light, we apply the CE, RoHS and SAA certificate for our led lighting product.
Our R & D team can handle highly customized designs and offer OEM and ODM services.
We hope to set up a long-term partnership with you through our high quality products and our Sincere Service!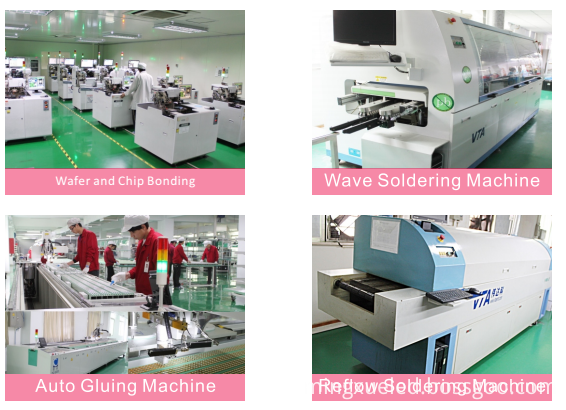 IC Constant Current Led Strip Light
Ic Constant Current Led Strip Light,Thin Led Strip Lights,24V Led Strip Light,Design Led Strip Light
Shenzhen Mingxue Optoelectronics CO.,Ltd , https://www.led-lamp-china.com