[Text / high-tech LED reporter Zhu Chunwei]
What are the influencing factors of LED light source on the human eye? LED as a healthy lighting will definitely play a greater role in our lives. How to determine the safety of LEDs in different occasions, especially indoor lighting?
In order to let consumers of LED lighting fixtures (including dealers, engineering buyers, and individual consumers) identify the true state of the products, Gaogong LED randomly purchased LED lighting of multiple brands in 30 provincial capital cities and lighting concentrated exhibition areas. Light source and lighting products are tested.
The 23 3W LED ceiling lamp brand manufacturers of the fourth round of CLEAR test project of Gaogong LED showed that only 4 of the 23 companies had R9>0, the ratio was 17%; the highest R9 value was 32.7 of Philips, the lowest. For Leo's -58.1; all products with R9 below 0 are indicated below 75.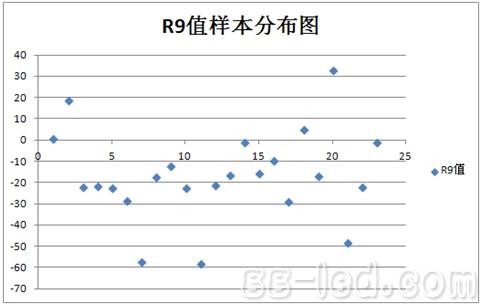 R9 is a parameter that is sensitive to red. A larger value indicates a higher sensitivity to red. For example, the R9 parameter of the LED on the endoscope must be high on the medical device so that the blood vessels can be seen clearly. In indoor lighting, the lower the R9, the more severe the red distortion is, so it cannot be negative.
Wang Qinrong, president of Fujian Desheng Optoelectronics, pointed out that the current good LED products, especially indoor lighting, the common type of R9>0, the better R9 value is 20-60, can reach 60, the index is generally 90.
"The value of R9 is too low. The most intuitive effect is that the brightness of the light is high. It is easy to produce color casts when used to illuminate objects. For example, in the field of commercial lighting, it is used to illuminate fruits and clothing, and the effect is relatively poor. At the same time, the eyes are also Uncomfortable, affecting vision." Yang Hong, general manager of Sunshine Electric, said.
A LED enterprise R & D personnel in Shenzhen revealed to reporters that these R9 parameters below 0 are basically using relatively cheap lamp beads. To improve the R9 is mainly in the packaging process, increase the uniformity of the phosphor, such as adding red powder, of course, the price of such a lamp is definitely much higher.

UV Germicidal Light Air Purifier
Uv Air Purifier,Uvc Air Cleaner,Uv Germicidal Lamp,Air Duct Uv Light
Dongguan V1 Environmental Technology Co., Ltd. , https://www.v1airpurifier.com