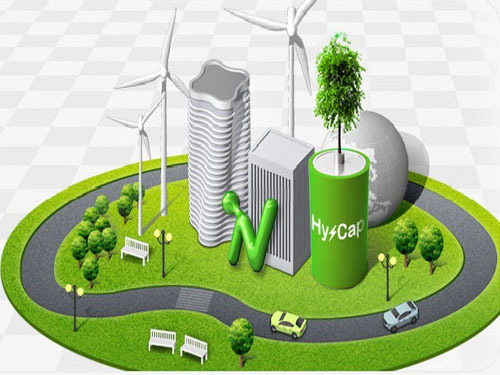 As the third-generation green physical energy storage device, the super capacitor will effectively reduce the consumption of petroleum, effectively reduce the pollution of urban exhaust gas, and provide a blue sky and clear water.

At present, micro-supercapacitors are widely used in smart meters, consumer electronics and small mechanical devices. Due to its long service life, short charging time, ability to display stored energy, unlimited materials, and good low temperature performance, the supercapacitor has given greater application to supercapacitors in areas such as new energy vehicles, rail transit, wind power generation, and military industries. look forward to.

The state may introduce super capacitor industry support policy

In recent years, China's super capacitor technology has been greatly improved, and put into operation in the field of public transportation and rail transit. However, due to the adjustment of the state's financial subsidy policy, the ultra-capacitor pure electric passenger car has lost the subsidy treatment for pure electric passenger cars, and the market has also been severely compressed, making the newly started ultracapacitor industry seriously damaged.

Recently, the Ministry of Finance conducted a special survey on the super capacitor industry, mainly to understand the development status of China's super capacitor, technology level and urban public transport applications, and sought the company's views on subsidies for new energy vehicles. Market analysts said that the Ministry of Finance's investigation will change the current super capacitor industry policy and remove obstacles to the development of the industry.

Exerting Market Power to Promote Supercapacitor Technology Development

The development and expansion of an industry not only requires the strong support of national policies, but also needs to give full play to the strength of the market. As the most effective market mechanism platform, the exhibition plays a vital role in promoting industry technical exchanges and cooperation and promoting industrial development. It is reported that the 6th China (Shanghai) International Supercapacitor Industry Exhibition (CSCF2015), China's largest super power exhibition, will be held on August 26-28, 2015 at the Shanghai New International Expo Center.

It is understood that this exhibition is expected to attract more than 200 domestic and foreign super capacitor companies to participate in the show, focusing on the latest achievements in the field of supercapacitors, including various types of monomer, combined supercapacitors, activated carbon, electrolyte, separators, pole pieces , Super capacitor production equipment, accessories, testing equipment. In addition, the official website of the exhibition has opened a free visit registration platform. Business units and individuals that need to visit can register online and enjoy on-site green channel services.

Super capacitor faucet will be on the same stage at China's largest super power show

As the largest and most professional exhibition in China's super capacitor industry, after five years of development, China's largest super power exhibition has accumulated a large number of high-quality exhibitors and buyers. Foreign super capacitor giants Maxwell, Nesscap, Korchip, Vina Tech, LS Mtron, Samwha and China South Locomotive, Liye New Energy, Shanghai Aowei, Nepeng, Haite Electronics, Jianghai, Fuzhou Dehua Electronics, a subsidiary of Wanyu Group, Zhaoqing Emerald, Bo Leida and other well-known domestic enterprises will be on the same stage to show the latest super capacitor products and technologies.

In addition, China's electrolyte leading enterprises, new cosmopolitan, Jiangsu Guotai, diaphragm enterprises in Chengdu, Shichida, Danit, activated carbon companies, Yakebi Group, Fu Laisen, graphene companies, carbon century, Chinese Academy of Sciences, Shanxi Coal Chemistry Institute, carbon graphite, equipment The enterprises Xingchengjie, Pioneer, Ming Ruixiang, and Times Gaoke will also make their debut.

Although China started late in the field of supercapacitors and technological innovation is also faced with many difficulties, the significance of conquering it is very significant. Once technical breakthroughs are made in supercapacitors, they will have a great impetus for the development of new energy industries and create favorable conditions for the development of China's environmental protection cause.

Grind your beans and spices fresh without losing any flavor.
GLAREME's powerful Coffee Grinder grinders the entire bean quickly and efficiently.Instead of buying pre-ground coffee, try making coffee with fresh ground beans.It will provide a rich aroma and rich flavor, making the coffee more delicious.In addition to coffee beans, the multi-purpose grinder can also be used to chop or grind nuts, seeds, herbs and spices.The GLAREME coffee grinder is compact and stylish, adding convenience and utility to any kitchen.

Coffee Grinder
Coffee Grinder,Espresso Grinder,Coffee Bean Grinder,Commercial Coffee Grinder
Jiangmen Taifai Technology Co.,Ltd , https://www.glaremecn.com