PC giant mobile Internet battle
Recently, traditional PC makers have entered the mobile phone market and set off another climax. Following the debut of Acer's new smartphones in late November, Dell and China Mobile launched its first mobile phone, and Lenovo Group announced a $ 200 million repurchase of Lenovo Mobile. The PC giants have deployed their mobile phone business, especially smartphones, in essence to compete for the "mobile Internet", a new market that has emerged. Experts said that the future mobile phone market structure may change because of this, PC manufacturers and traditional mobile phone manufacturers will be equally divided in the field of smart phones.
The age of mobile phones for PC vendors has arrived
Driven by 3G, WiFi and other technologies, the PC giant has more enthusiasm for "mobile Internet" than ever before, and mobile phones have naturally become an indispensable market. According to the information provided by Acer's headquarters in China to our reporter, Acer bets all on the concept of "mobility" and calls it a "different" decision. Liu Chuanzhi said that the repurchase of Lenovo Mobile was due to the needs of the strategic development of Lenovo Group, which in turn helped Lenovo find the best development direction in the mobile internet industry chain. Dell also said that it will occupy a corresponding market share in mobile internet devices of various screen sizes.
Ma Jihua, a well-known telecommunications expert, believes that the functions of mobile phones are more and more inclined to computers, especially smart phones are more like a handheld computer, so the advantages of traditional PC companies are becoming more and more obvious, and the time to make mobile phones has arrived. Lu Yan, President and CEO of Lenovo Mobile, told reporters that the lower the cost for netizens to adapt to the mobile Internet, the easier it is to become a mobile Internet user. Therefore, if the browser on the mobile phone can provide users with a web surfing experience close to the computer or even equivalent to the computer , It can attract the conversion of Internet users to mobile Internet users.
At present, the sales growth of traditional computers is slowing down, and companies also need to seek new profit growth points. Acer took "a courageous decision" when the company entered a period of slow development, including the acquisition of eTen to allow Acer to enter the smartphone market. According to statistics, the gross profit margin of smart phones exceeds 25%, and the traditional business of many PC manufacturers has fallen into the predicament of gross profit margins below 10%.
According to IDC data, despite the significant decline in global mobile phone sales due to the financial crisis, global smartphone sales in the third quarter of this year increased 4.2% year-on-year and 3.2% month-on-month, and total sales reached a record. It can be said that the contrarian upward trend in the smartphone market, coupled with Apple 's early entry into the mobile phone market, has benefited a lot from the world, which has prompted PC companies to accelerate their pace of entering the mobile phone market.
Share evenly with traditional mobile phone merchants
The PC giants not only have to compete with each other, but also have to face the competition with established mobile phone manufacturers. Statistics show that Nokia, Samsung, HTC, Dopod, Motorola, etc. are still in the forefront of the smartphone market that attracted most users' attention in the Chinese market in October this year.
"The advantage of PC manufacturers is that they have a better grasp of user computer software application habits. The disadvantage is that communication will be inferior to traditional mobile phone manufacturers, especially how to deal with small screen usage habits." Ma Jihua said that although it is a latecomer, it is like Lenovo , Dell, Acer, etc. have strong industrial design capabilities and full production capacity, as well as strong sales channels and personnel, will be able to adapt to the market more quickly.
In fact, the competitive advantages of these PC vendors have already begun to show. It is reported that Acer will set up a research and development center in Beijing, mainly for researching smartphones. Lenovo Mobile seized the opportunity of 3G OPhone mobile phone in 2009, turned losses into profits, and became the third manufacturer in the domestic market.
Active bundling with operators has also become a major strategy for PC giants. "This is equivalent to taking a boat out of the sea, because PC vendors lack the channel resources and brand influence of traditional mobile phone manufacturers, and with the help of operators, consumers can accept and buy them as soon as possible." Ma Jihua believes that the intelligent terminals launched by PC vendors Especially relying on content applications and customer experience, this requires strong support from operators in terms of network, customer service, etc., otherwise it is more difficult to walk on one leg.
"In the next two years, perhaps it will be a period of change of the dynasty. Traditional mobile phone manufacturers and new PC manufacturers entering the field will fully compete." Ma Jihua predicted that the advantages of traditional mobile phone manufacturers will exist for a long time, but the share will shrink, but in smart Both parties will share the same in the field of mobile phones. Although it is difficult to say who wins or who loses, one thing is for sure, with the addition of PC manufacturers, smartphones will accelerate market penetration and prices will fall.
Freestanding Gas Cookers

Enjoy the control and convenience of gas cooking with Freestanding Gas Cookers, featuring four gas burners and 4 brass burner cap to help you create delicious meals for your family and friends.

Key Features
Fuelled by natural gas, Freestanding Cooker is economical and delivers delicious results, letting you enjoy tender, moist roasts with lower running costs.
The spacious cooktop features a triple ring burner for fast, efficient heating, and flame failure protection to cut off the gas flow if the flame is extinguished.
The gas oven offers a range of cooking functions, including electric grill, static gas, and fan assisted gas for even heat distribution.
Crafted with low porosity titanium enamel and a removable glass door, the Cooker is easy to clean.
With a 10 AMP plug already fitted to the Cooker, installation to a standard power outlet is simple and easy.

Black color body
Glass top
Stainless Working Top
4 Gas Burners with 4 brass burner cap
(1 large 2 medium 1 small)
Manual Ignition
Enamel Grill
Knobs with Base
Double Glass Oven Door (mirror)
Downside Oven Burner
1 Pcs Oven Grill
Aluminum Handle
Duck feet
Oven Size:60L
Product Size:50X50X81cm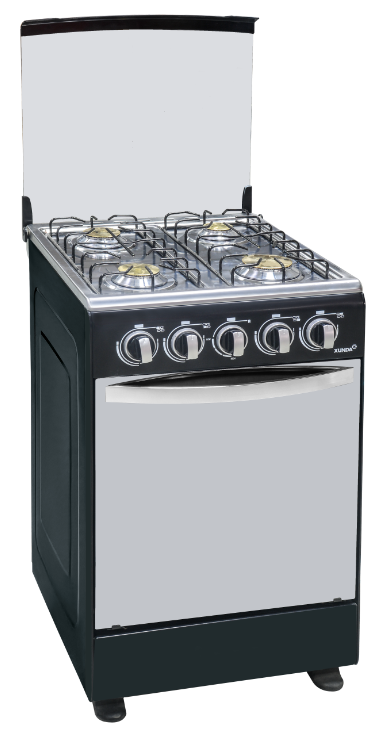 Freestanding Gas Cookers
Freestanding Gas Cookers,Free Standing Electric Combination Cooker Oven,Large Volume Oven Cooker,Six Burners Glass Cover Cooker
Xunda Science & Technology Group Co.ltd , https://www.xundatec.com