Limiting the output to a safe value. The LT4356-3 also monitors the voltage drop across the VCC and 蔼SNS pins to protect the overcurrent driver. The LT4356-3 operates from 4V to 80V with reverse input protection to -60V. The shutdown pin can withstand voltages from -60V to 100V and shutdown currents of only 7uA, which can be used for surge protection, hot swap, and intrinsically safe applications in automotive and military aircraft. This article describes the main features of the LT4356-3, block diagram , a variety of protection application circuits and circuit diagrams of the DC1018 evaluation board.
This article refers to the address: http://
The LT4356-3 surge stopper protects loads from high voltage transients. It regulates the output during an overvoltage event, such as load dump in automobiles, by controlling the gate of an external N-channel MOSFET.
The output is limited to a safe value such allowing the loads to continue functioning. The LT4356-3 also monitors the voltage drop between the VCC and SNS pins to protect against overcurrent faults. An internal amplifier limits the current sense voltage to 50mV. Fault condition, a timer is started inversely proportional to MOSFET stress. If the timer expires, the FLT pin pulls low to warn of an impending power down. If the condition persists, the MOSFET is turned off, until the SHDN pin pulls low momentarily.
The spare amplifier may be used as a voltage detection comparator or as a linear regulator controller driving an external PNP pass transistor. Back-to-back FETs can be used in lieu of a Schottky diode for reverse input protection, reducing voltage drop and power loss A shutdown pin reduces the quiescent current to less than 7μA during shutdown.
Main features of LT4356-3:
Stops High Voltage Surges
Adjustable Output Clamp Voltage
Overcurrent Protection
Wide Operation Range: 4V to 80V
Reverse Input Protection to –60V
Low 7μA Shutdown Current
Adjustable Latchoff Fault Timer
Controls N-channel MOSFET
Shutdown Pin Withstands –60V to 100V
Fault Output Indication
Spare Amplifi er for Level Detection Comparator or
Linear Regulator Controller
Available in (4mm 3mm) 12-Pin DFN, 10-Pin MSOP or 16-Pin SO Packages
LT4356-3 application:
Automotive/Avionic Surge Protection
Hot Swap/Live Insertion
High Side Switch for Battery Powered Systems
Intrinsic Safety Applications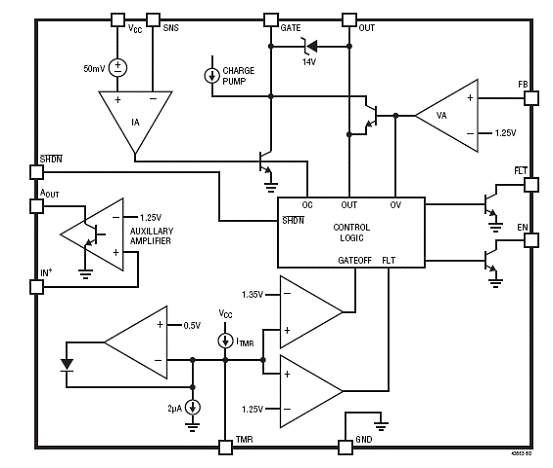 Figure 1. Block diagram of the LT4356-3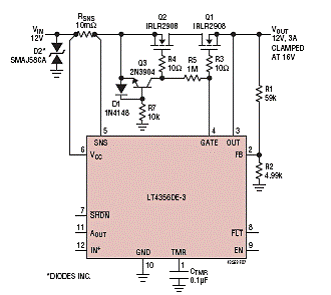 Figure 2. Overvoltage regulator circuit diagram with N-MOSFET inverting input protection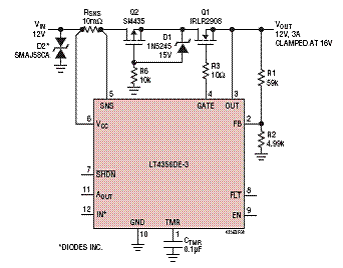 Figure 3. Overvoltage regulator circuit diagram with P-MOSFET inverting input protection
Figure 4. Voltage regulator circuit diagram with low battery detection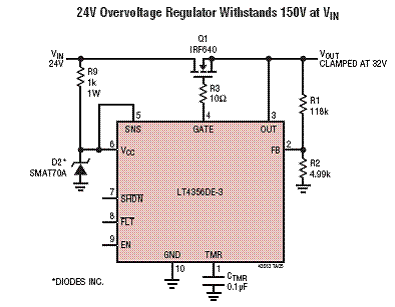 Figure 5. Vin can withstand a 150V 24V overvoltage regulator circuit diagram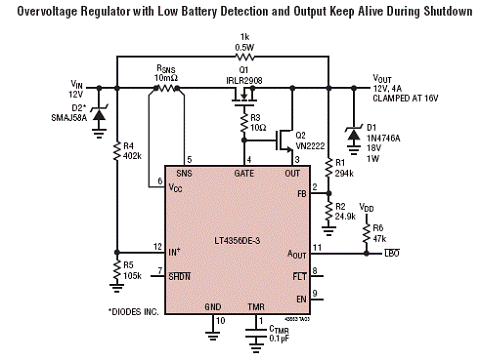 Figure 6. Overvoltage regulator circuit diagram with low battery detection and output still working when turned off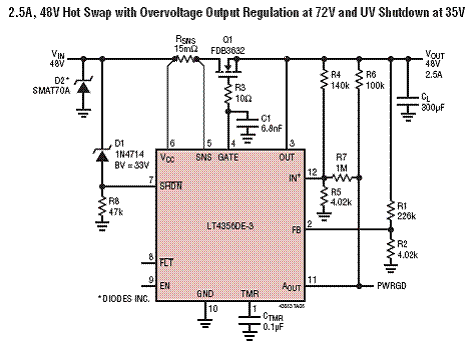 Figure 7. 2.5A 48V Hot Swap Circuit Diagram with Overvoltage Output Regulator (72V)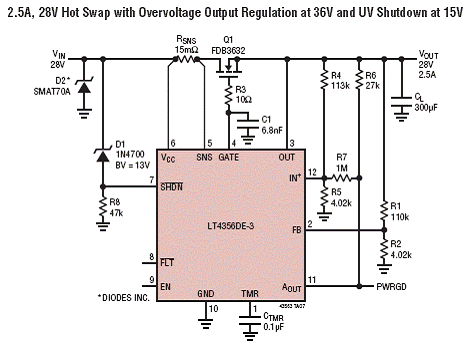 Figure 8. 2.5A 48V Hot Swap Circuit Diagram with Overvoltage Output Regulator (36V)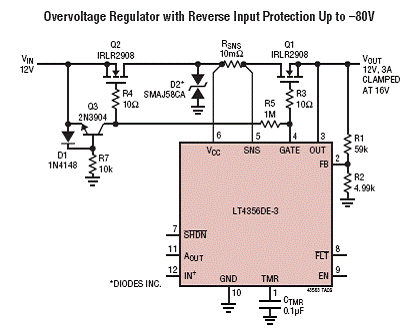 Figure 9. Overvoltage regulator with reverse input protection up to -80V
DC1018 - LT4356-1 Evaluation Kit
Demonstration Circuit DC-1018A showcases the LT4356 Surge Stopper in a 12V, 3A application. Input transients of up to 60V are limited to 16V at the output; sustained overvoltage conditions cause the limiter to trip off and retry after the overvoltage is removed.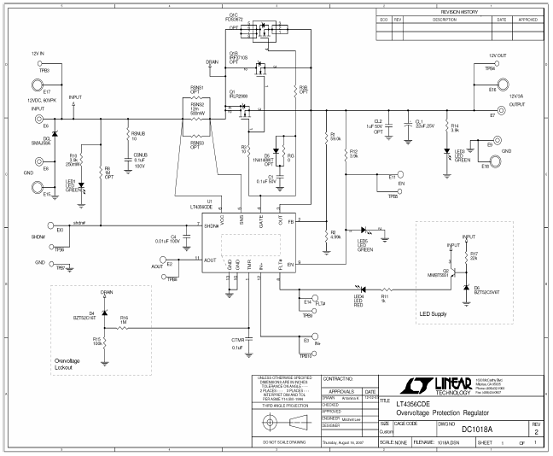 Figure 10. DC1018 Evaluation Board Circuit Diagram
Shareconn development Co.,Ltd offer series Computer Wire Harness. Equipped with high-end automatic production equipments, like automatic crimping machines, automatic wire cutting and crimping machines, automatic crimping and tinned plate machines, etc. Meanwhile, we have our own laboratory to support the testing requirements from our suppliers and 100% checking before shipment. To assure the product and the comprehensive competence, we introduce high-level technical talents and management personnel as well as well-trained staff, and improve ourselves in many ways, like the quality, price, delivery, service, etc. Now, Shareconn has been the best supplier and partner for many customers.
Computer Wire Harness
Computer Wire Harness,Circuit Board Wiring Harness,Wire Harness For Computer,New Wire Harness For Computer
Shareconn Development CO.,LTD , http://www.share-conn.com