The Chinese mainland has vigorously fostered the semiconductor industry, and it has been blocked by the new Trump administration of the United States. It is likely to accelerate independent research and development in the future. Senior semiconductor industry analysts have analyzed that China's semiconductor industry has entered a battle for the masses, and the external squad will also speed up. The Taiwan Semiconductor's senior semiconductor elite is only a prelude, and the future dig-out operations will be extended to other countries.
China mainland earlier in the development of semiconductor integration program, Ming SMIC and Ziguang as the leading logic chip and memory two major indicators, but the competition competed in various places, hoping to receive central attention and the National Industrial Development Fund (big fund) favored capital injection .
SMIC is currently the leader in wafer manufacturing in mainland China, but compared with the world's leading manufacturers, technology is still a lot behind. Although SMIC's market value surpassed UMC last year, the difference between the two places is large, deducting these factors, plus The mainland policy subsidizes projects such as reticle, and the value of UMC is far above the SMIC, let alone compete with TSMC.
Ziguang Group also sees that SMIC is currently experiencing bottlenecks. It hopes to bring together all parties to love the aura, quickly cut into logic chip manufacturing, and double-track with memory, surpassing SMIC and become the largest chip manufacturer in mainland China.
Therefore, Ziguang recently took over Wuhan Xinxin in the memory field, and established a joint venture with the big fund to establish Changjiang Storage Company, and built a single largest 3D storage flash memory (NAND Flash) factory in Wuhan East Lake High-tech Zone to cast a global memory market. Shocking bombs.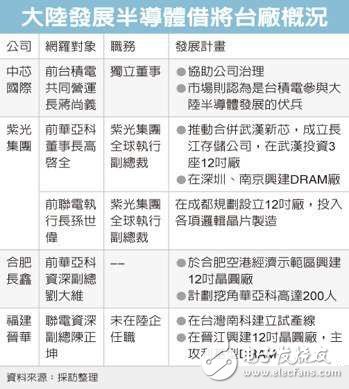 However, in the memory field, Ziguang is also facing competition from Hefei Changxin and Fujian Jinhua to compete for card positions.
The key to these semiconductor investments is technology. At present, South Korea's Samsung and SK Hynix have refused to provide technology to the mainland semiconductor plants, and almost all of the land-based targets are locked in cooperation with the United States.
However, the White House Science and Technology Adviser advised the Trump administration that in the face of China's full push to promote semiconductor technology, it should strengthen the protection of the US semiconductor industry based on national security reasons. After Trump took office, it may impose stricter restrictions on mainland China's investment in the US semiconductor industry. The semiconductor industry is convinced that this siphon force can't stop, how to stay talents and educate talents, and test the wisdom of the government and enterprises.
gree , https://www.greegroups.com