In November last year, the State Administration of Radio, Film and Television issued the 229th document, banned the OTT box that was in full swing at that time, and the first batch of 81 illegal applications were screened. The introduction of the document caused more than two-thirds of the OTT boxes at that time to suffer severe pressure. The biggest blow ever made, resulting in a serious decline in the market size of the OTT box, so far the cloud has not dissipated.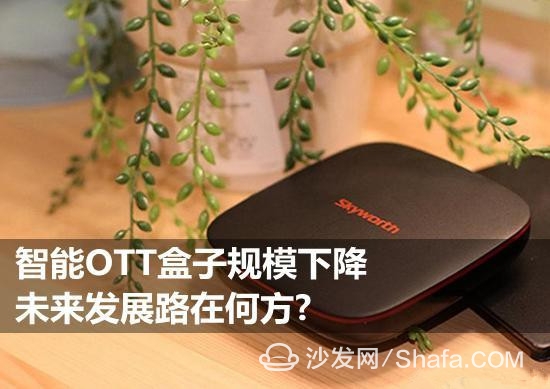 Smart OTT box sales decline sharply
According to AVC online monitoring data, the retail volume of OTT boxes in April was 545,000 units, a decrease of 22.9% from the previous quarter; retail sales were 120 million yuan, a decrease of 23.9% from the previous quarter. However, in addition to the decline in sales volume, the number of models sold on the market and the number of listed models are also relatively reduced. According to data from Ove Cloud Network, OTT models were sold in April, 379 models, compared with the previous month. 19 models were reduced; 18 new models were listed, 21 new models were dropped last month; 361 model models were stocked, and 2 model models were added this month.
Judging from the share of online brands of OTT boxes in April, the brands of TOP5 are Tmall, Xiaomi, Infik, Delight, and Yidian, with a brand share of 79%, a decrease of 0.4% from the previous month, among which, Cat share accounted for 32%, down 3.5% from the previous quarter; millet accounted for 19.5%, up 0.8% from the previous quarter; Infik accounted for 11.4%, up 2.2 percentage points from the previous month; Diyoun special accounted for 11%. , a decrease of 0.2 percentage points month-on-month; billion shares accounted for 5.2%, a 0.2% increase from the previous quarter.
Looking at the sales in May, according to AVC online monitoring data, the retail volume of OTT boxes in May was 497,000 units, a decrease of 8.8% from the previous month, and retail sales of 110 million yuan, a decrease of 6.9% from the previous period. At the same time, the sales of OTT boxes are still decreasing. According to statistics, the number of OTT boxes sold in May was 79, a decrease of 14 compared to the number of brands sold in April.
In terms of online brands, TOP5's brand share accounted for 77.6%, a decrease of 1.4% from the previous quarter. Tmall's share accounted for 34%, up by 1.7 percentage points month-on-month; millet share accounted for 17%, a decrease of 2.8 percentage points from the previous month; Diyoun special accounted for 10%, a decrease of 1.0 percentage points; Infinico's share accounted for 10 %, a month-on-month decrease of 1.0 percentage point; Yidian share accounted for 7%, a year-on-year increase of 1.6 percentage points.
Through the comparison of the sales scales in April and May, it can be seen that the sales volume and sales of OTT boxes both declined in the past two months, although the two brands of Infineon and Yidian have increased in size in April. The scale of Yidian has also increased in May, but overall, the scale of the smart OTT market has experienced a significant decline. This is not only a decline in sales volume and sales, but also the number of its brands is decreasing month by month. Although the suppression of policies has made the market more standardized and allowed the market to reshuffle, if such sales performance develops for a long time, it will affect the overall market. The development is very unfavorable.
Strong survivors in the face of adversity continue to force OTT box products
Although the OTT industry could not escape the "cold" attack imposed by the national policy, the manufacturers still did not give up on the development of the OTT box. Instead, they continued to seek breakthroughs in function and hardware. Their functions were weaker than the traditional digital set-top boxes in terms of live broadcasting. At the same time, in the video, games, shopping, social and other aspects of seeking value-added box.
At the beginning of this year, CIBN released the Z1, a high-definition smart TV box, the Canbox Super Cloud Box, and officially entered Gome in May. This smart box is configured as an Amlogic S905 4-core 2GHz ultra-efficient processor and is equipped with a 3+2 core. Mali-450 graphics processor, support for 4K playback, dual-band WIFI support 2.4/5G, at the same time, television carousel, life applications, try out popular games are readily available.
On June 6th, Skyworth Digital joined forces with Tencent Penguin TV to launch Skyworth Box T2 and officially launched at Tmall Mall. Skyworth T2 was equipped with an imported 4-core processor, which achieved a 50% performance increase over the previous version. The boot speed was faster, accompanied by 1GB. +8GB large memory, and H2.65 efficient decoding of high-definition video, built-in strong WIFI, built-in antenna design, stronger wall penetration, and support for wired network connection, watching more smoothly. Not only that, Skyworth T2 has strong support from Tencent Video, allowing it to have a large amount of genuine video for users to watch for free, and is compatible with all old TVs.
On June 8th, Starcom launched a new UT housekeeping egg, which is a smart home entertainment combo product. It has a built-in 7.2 million high-definition camera with MIC voice function and filter noise. Semaphore problems affect the nature of sound, 118 ° wide-angle camera, wide-angle telephoto lens, shooting coverage is more extensive, not only to take care of children, to accompany the elderly, anti-theft anti-cut, free to see Galaxy love Qiyi 200,000 hours of genuine HD video, one hundred popular The games are free to play, and functions such as parent-child education and healthy health are also comprehensive.
Manufacturers are struggling with OTT box products. Among the recently released products, hardware and software have improved greatly compared to previous products, especially performance and intelligence, memory, and network connectivity. Video has also improved, providing consumers with better quality products and a smarter life.
OTT box saves two major bottlenecks
Although major manufacturers do not give up on the OTT box, they continue to introduce new products. However, the recent decline in the sales scale is a reality. This is very challenging for the development of the market, and there are also some developments. bottleneck.
First of all, even if the national release policy restricts the development of smart TV boxes and shields illegal applications, it cannot stop the production and sale of Shanzhai products. According to reports, Shandong Radio and TV Network Group found that the sale of Internet TV set-top boxes in Shandong Province was extremely confusing, and that some of the Shanzhai product markets that had not been approved by relevant departments were extremely hot, except for low prices. It is also very ineffective and misleads many consumers.
Such market chaos is very unfavorable to the development of the OTT box market. It is believed that similarly to this type of knockoff products, it also exists in other regions. This requires the government to conduct more rigorous investigations and pressures. Only the release of policies on the management of its knockoff products is only On paper, the so-called "there are countermeasures under the policy." Therefore, it is necessary to further strengthen supervision over this situation.
Secondly, in the past two years, the development of smart TV has been surging and full of tricks. The product category is also expanding with the development of the market. Its main categories include 4K ultra-clear television, curved TV, OLED TV, etc., which also includes these categories. In addition, part of the comprehensive addition of HDR technology. Not only that, the development of the Internet TV brand is even more intense, and it is equivalent to the strength of traditional TV brands, bringing many benefits to the smart TV market.
However, the rapid development of smart TVs will directly affect the OTT box market, mainly due to the fact that smart TVs not only occupy certain advantages in terms of technology, but also operate conveniently. One TV encapsulates the functions of all OTT boxes and reduces the floor space. Not only that, the service life of the TV is only a few years, if you do not pay attention to protection at ordinary times, life expectancy will be even shorter, plus many Internet TV manufacturers often fight price war to attract many consumers, it is easy for consumers to ignore TV The existence of the box also invisibly suppressed the OTT box market.
Relative to the future development of the OTT box, its sales may increase more or less within the next two years, but only within a few years, and will not be as hot as last year. With the continuous progress of Internet TV, the survival and development of OTT boxes will continue to be suppressed in the future. Therefore, the future of OTT boxes will not be too long but not too short. In short, the development of one thing has both advantages and disadvantages. Although the development prospects of the OTT box will not be particularly satisfactory, the continuous upgrading of smart TVs can also bring a lot of convenience to consumers. Ultimately, it will still benefit both consumers and enterprises.
Why we recommend iPhone 6S Battery with TI IC (Texas Instruments ) rather than ZY/ZW?
1. TI IC is original method for iPhone Battery.
2. Charging more faster, less fever heat to save battery life.
3. Accurate battery power monitorin
4. Keep stable performance and controlable temperture
5. The battery with TI IC more safe, charge more faster, lasts longer life.
We are iPhone battery manufacturer can supply Original TI IC for customer needs,iPhone 6S 0 cycle Battery with TI IC have 100% compatiable with iOS lastest system.

iPhone 6S Battery TI IC is more stable performance than other IC,that is why we high recommend iPhone 6S 0 cycle battery TI IC.
iPhone 6S 0 cycle Battery with TI IC,iPhone 6S Battery TI IC,iPhone 6S 0 cycle battery TI IC
Shenzhen Aokal Technology Co., Ltd. , https://www.aokals.com