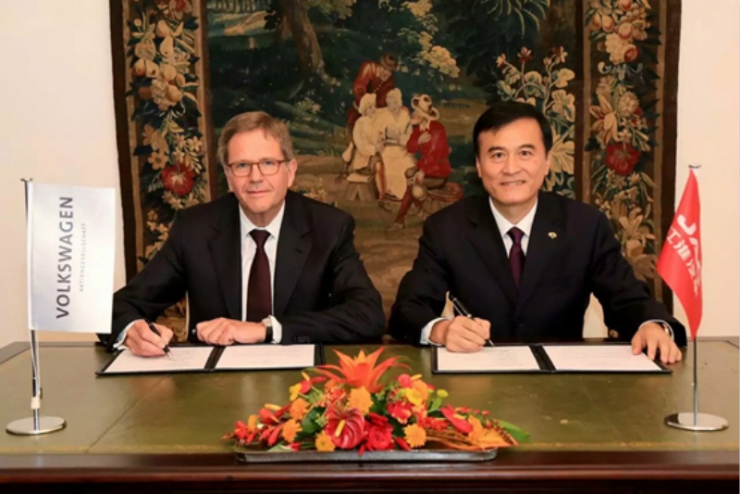 JAC announced on September 7 that it had signed a memorandum of understanding with Volkswagen (China) on September 6 in Wolfsburg, Germany.
According to the memorandum of understanding, the two sides are setting up a new joint venture with a 50% stake in the new energy automotive sector. The joint venture company will carry out all-round cooperation in the R&D, production, sales, and travel plans of new energy vehicles and parts.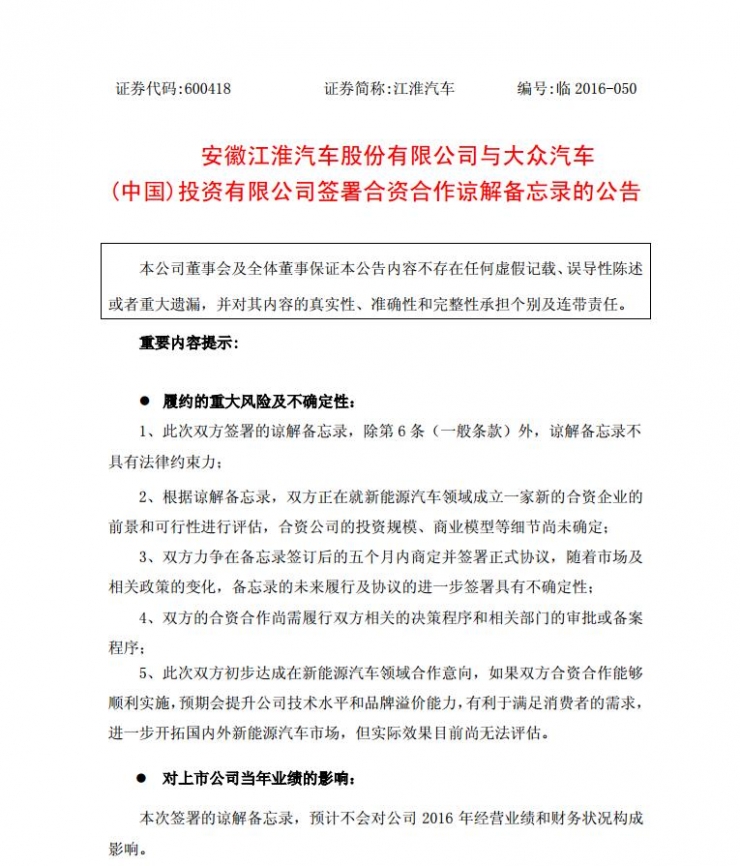 At present, the two sides are evaluating the prospects and feasibility of joint ventures. The details of the investment scale and business model of the joint venture companies have not yet been determined.
It is understood that Jianghuai and the masses are not accidental. In February of this year, Volkswagen China President and CEO Heizmann took the initiative to disclose to local British media: "We are currently in early contact with Jianghuai Automobile to discuss and deepen our understanding of each other and discuss possible future cooperation directions." The news that Volkswagen will soon establish a third joint venture with Jianghuai will be overwhelming.
In fact, when Heitzman announced this news, the cooperation between Jianghuai and Volkswagen has received the support of high level officials from both countries.
In October of last year, Premier Li Keqiang of the State Council said that he was willing to cooperate with JAC and Volkswagen in the visit of the JAC automobile production workshop and the research and development of new energy vehicles. When Hezmann himself announced the news, he had already had three contacts with JAC Chairman An Jin.
In July last year, Jianghuai Automobile announced the development strategy for its new energy vehicle business (i.EV+ strategy). By 2025, the total production and sales volume of new energy vehicles will account for more than 30% of the total production and sales volume of JAC. In June of this year, Volkswagen released the "2025 Strategy", which plans to break the annual sales volume of its own electric vehicles and plug-in hybrid vehicles by more than a million in 2025. A joint venture is the best outcome for both auto makers who want to use new energy vehicles.
At present, Volkswagen already has two FAW-Volkswagen and SAIC-VW joint ventures in China. How the "Jianghuai-Volkswagen" will be born is very eye-catching. Some industry sources speculated that "JAC-Volkswagen" may refer to the Tengshi model, which is the first domestic electric vehicle joint venture between BYD and Daimler.
Welcome attention to new intellectual driving. Wechat add "New Driver" to subscribe to the public number.

High Voltage Thick Film Resistor
High Voltage Thick Film Resistor refers to SHV cylindrical resistors (RC Series). They are suited for all high value and voltage applications. Such as High voltage power supply. X-rays equipment, High voltage multiplier, Precision divider electron microscopes, High resolution CRT displays, Automobile Electronic, .etc.
Polypropylene Film Capacitor,Power Supply Resistors,flat resistor,thick-film resistor,HV Power Resistor
XIAN STATE IMPORT & EXPORT CORP. , https://www.capacitorhv.com