Haimeidi and Mango TV jointly launched the Mango Q Q6 small box was exposed, the configuration and appearance has been officially announced, the main voice broadcast control and Bluetooth remote control H6, let us see a small surprise. Similarly, it supports H.265 hard-drive solution and supports 4K output HDTV boxes. Haimei Di has 10 years of research and development strength and quality assurance. There are mango TV licensees in the outside world who strongly support it. The content is more legal and rich in resources. Now let me take everyone to see how this product performs.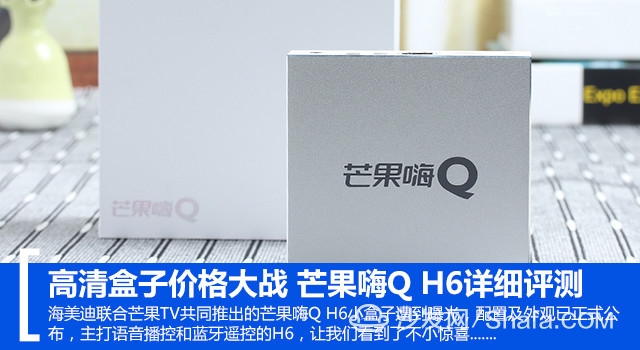 Mango å—¨ Q H6 is the latest network set-top box product released by Haimedi this year. It not only has a brand-new design, but also has greatly improved functions. It is equipped with a quad-core processor and supports hard-to-get H.265 and 4K video resources. Decoding, with 1G memory and 8G internal flash memory for easy installation of multiple TV applications. Support voice on demand and voice remote control, but also for Bluetooth transmission, while mango Q H6 and mango TV license party support, access to a lot of video program resources.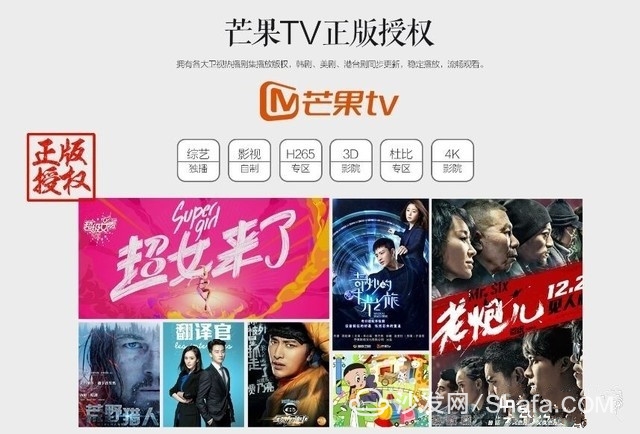 In terms of performance, Mango® Q H6 is considered to be a very powerful product in this price range. The process we performed during the testing phase was very smooth. The operation mode uses an excessive animation similar to the Apple IOS to eliminate the caching, which is very helpful for improving the user experience. As a high-definition TV player product within 400 yuan, the use of the Mango Q Q6 experience It is indeed extraordinary. Then let me take everyone to learn more about the various features of this product, as well as the use of details.
Product appearance and accessories display
Unlike Haimedi's previous product, this Mango Q Q6 has a completely new look. Before Haimei Di's box also has a lot of matte silver color, but mango Q Q6 this product's polished texture is really handsome, work can be described as perfect, before this site is also on the line appearance of this product Let's take a look at the details of this product now.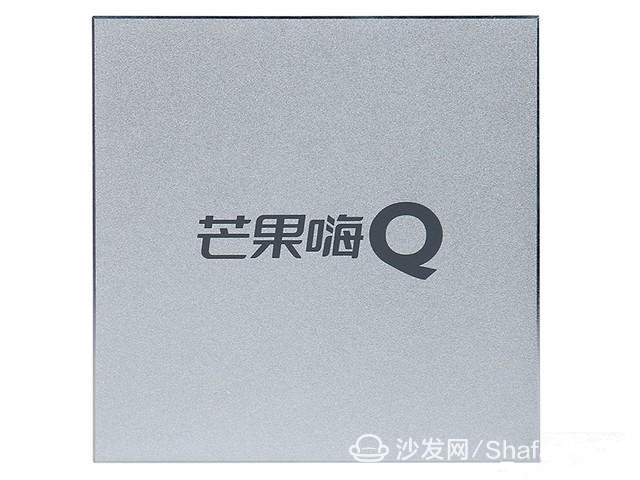 Mango å—¨ Q H6 front view
The appearance of mango å—¨ Q H6 is very beautiful and it is an artwork. Its metal part is made of aluminum matte silver material, the overall polishing is very texture, not easy to leave fingerprints, the surrounding chamfer directly polished into a smooth surface, workmanship is very particular about. The middle mango å—¨ word is also frosted, heavier than the surrounding colors, and when viewed from a distance, it is thought to be a reflection of the mirror texture, but it is indeed the same as the surrounding matte surface.

Mango Q Q6 side view
The metal part above the mango å—¨Q H6 is a plastic texture shell. Because there is no antenna design, it cannot necessarily use the all-metal body. The following plastic shell is not only disadvantageous, but it has no shortcomings. The whole is at one go. The top metal cover is very neat.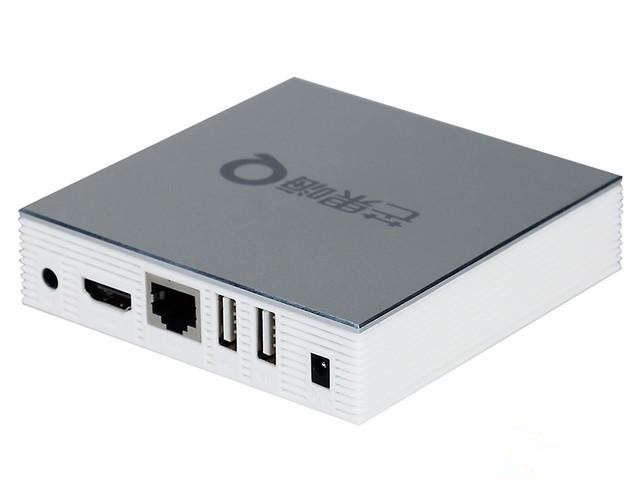 Mango å—¨ Q H6 interface
In terms of interface, Mango Q Q6 has two UBS interfaces, an HDMI high-definition interface, a machine power interface, an Ethernet port, and an AV interface. In terms of interfaces, Mango Q Q6 has been able to cope with almost all Happening.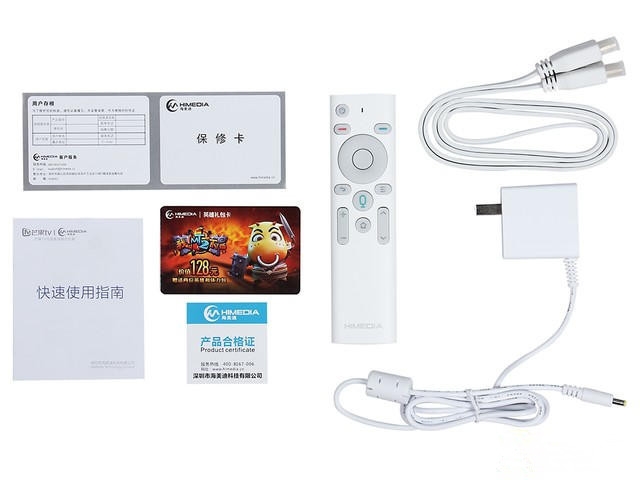 Package accessories and warranty card
Mango Q Q6 Remote Control
The remote control of the mango å—¨ Q H6 uses a plastic body and a soft silicone button. The handle is still very good. The button size is also suitable. After the operator is skilled, he can perform accurate and accurate operation without looking at the remote controller. The remote control is my personal favorite. The remote control is made of plastic material. It's light weight. The matte surface is very slippery in my hand. I'm the kind of person who gets things and feels good if they feel good. Can be considered to find the feeling of love it.
System operation setting interface display
For a TV box, powerful hardware configuration, excellent program source, in fact, are inseparable from an easy-to-use operating system, a good UI system allows users to use more simple, get started faster. The system interface of Mango/Q H6 is relatively simple. It belongs to that kind of clear design, and the functions and applications are clearly placed there. Users can find the functions and programs they are looking for in a short time.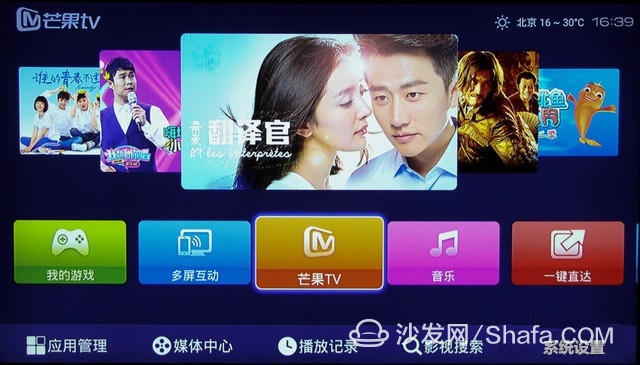 Mango å—¨ Q H6 main interface
On the interface of the system setup, the interface of Mango/Q H6 is relatively simple, and the electronic equipment manufacturers that realize it have gradually realized a problem. The interface of past electronic devices has a lot of difficult-to-understand technical terms, making it difficult for many older users to read the meaning of this option. The current interface has been translated into very good vernacular Chinese, and in some relatively high-end products, the menu interface has also been categorized. Those who know relatively the product can use the expert mode and those who are not familiar with electronic devices. There is also a corresponding quick setting.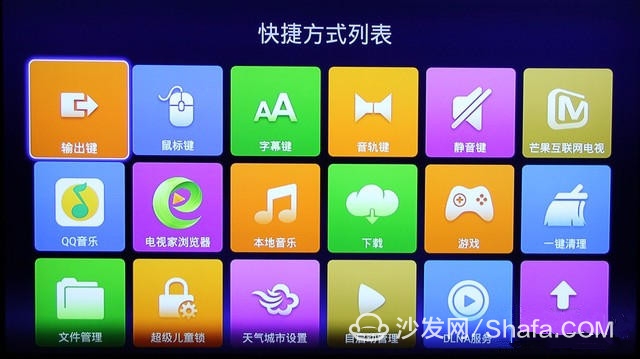 Mango Q Quick List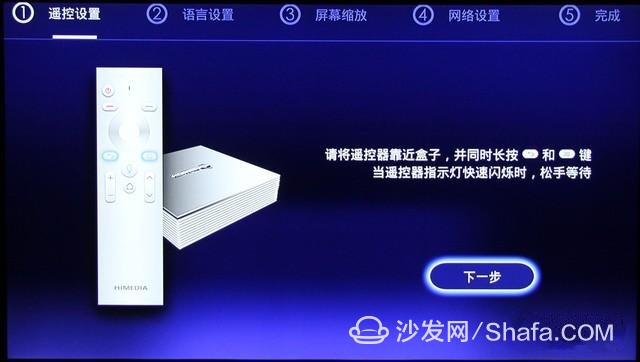 Mango Q Q6 boot settings interface
After the first boot, you need to make simple matching settings. Settings are very simple, including remote control pairing, main language settings, screen scaling, and network links.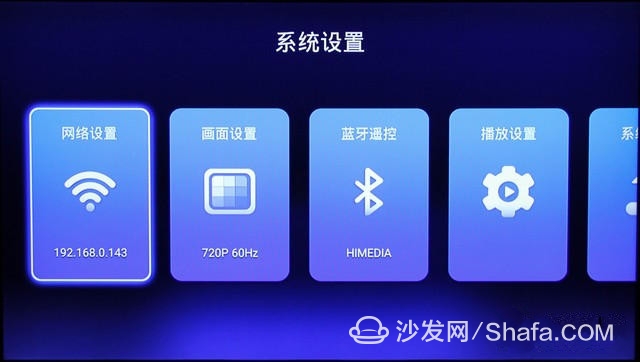 Mango Q Q6 settings interface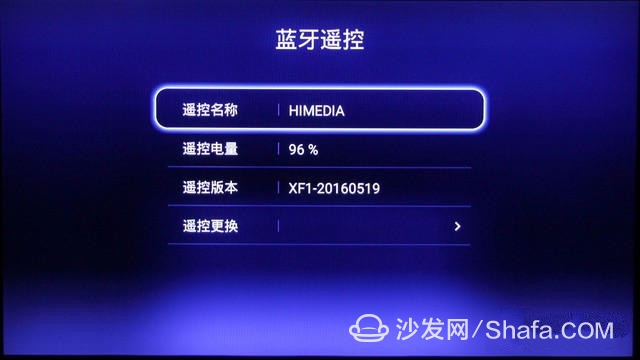 Mango Q Q6 remote control status monitoring interface
The setting interface of Mango Q Q6 is very simple and easy to understand. The experience is very good. The powerful hardware processor performance gives this TV box an excellent user experience, smooth operation, and smooth over animation. Throughout the product evaluation process, No stalling and operational delays occur.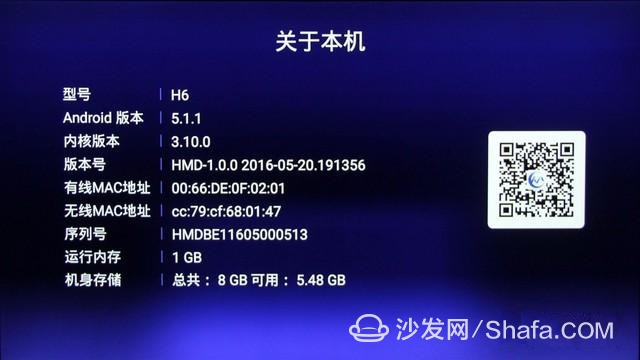 Host Information Interface
The explanation of the interface of the mango å—¨Q H6 system is here, and the overall feeling of use is still very good. The first impression is that the interface is very simple and the impression is very clear at a glance. There is no Caton in use, and the overall interaction logic is very natural. With the feel of the remote control, the press can't stop at all.
There are good hardware and display effects, of course, with a rich content resources, the combination of software and hardware can play the greatest value of a TV. In terms of content, it is recommended to install a sofa butler - the sofa butler is a third-party app store designed specifically for smart TVs, Android box users, carefully providing television, box users with high-quality television exclusive version of the application, including with live Or on-demand video and audio and video software, various types of recreational competitive video game software and daily office entertainment management system management tools. Users refer to the tutorial: Haimeidi Mango Q Q6 Installation Method Install a sofa butler to extend third-party applications.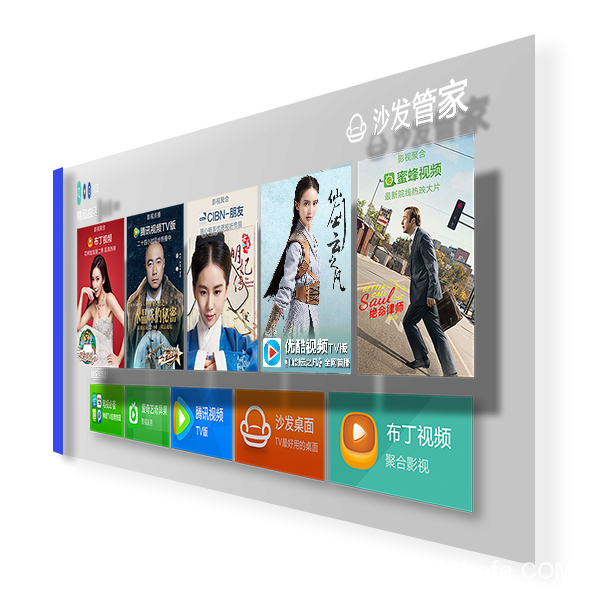 Program Resources Introduction
As the largest supplier of license plates for mangoes, the name of Mango TV is naturally the famous mango TV. Everyone wants to know about mango TV. As one of the largest providers of video program licenses in China, the copyright of genuine source has always been very trustworthy. Its advantage is that the update is rapid and the video source is very rich.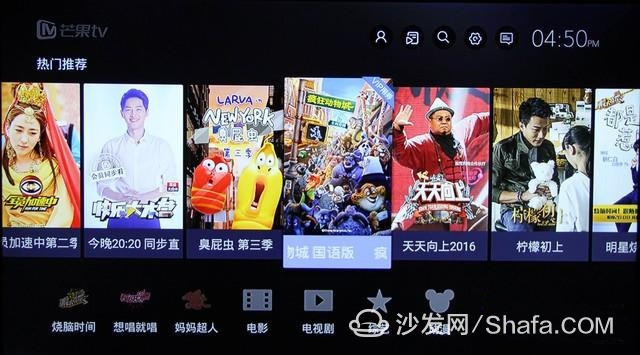 Mango Que Q Mango TV Main Interface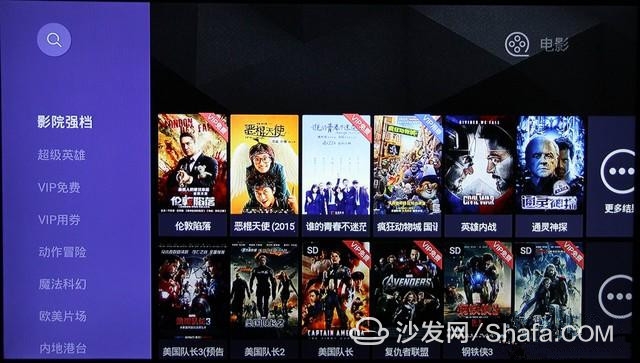 Mango Que Q Mango TV Movie Interface
The mango TV with a large number of sources has no need to worry about the reliability of its resources. However, there are a lot of movies that require members to watch. Fortunately, the price of members is very affordable, and many movies can be found here. If you miss the release of the movie theater, you can see different high-definition movie and movie resources in front of your home TV.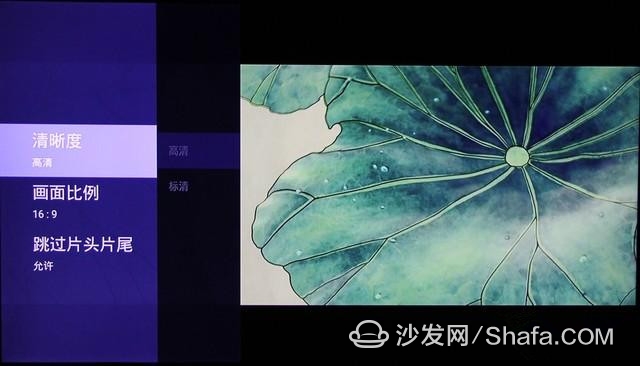 Mango Q Q6 movie playback interface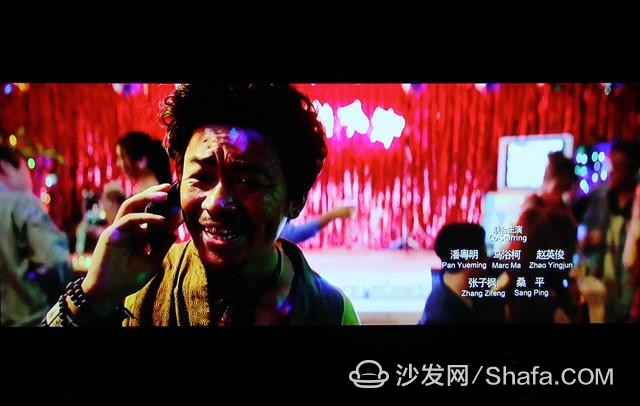 Mango Q Q6 movie resource playback interface
Mango TV's strength in TV shows and variety shows is extraordinary. Almost all online dramas can be found here online and offline. Updates are very fast. They are very similar to the frequency of traditional television updates. The source definition is very good, just updated. The source definition is also very comprehensive, and it can cope with various network environments to play without cards.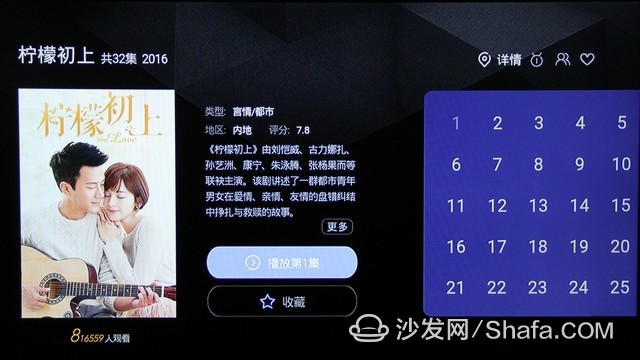 Mango Q Q6 TV Play Interface
Mango Q Q6 variety show playback interface
When we watch TV programs, we generally pay attention to its update speed, source definition, and the richness of its program resources. Mango Q Q6 is very good in terms of program resources and has delivered a satisfactory one. The answer sheet, the excellent film source, the strong copyright supplier, and the rapid update speed created an unusual experience for this TV box.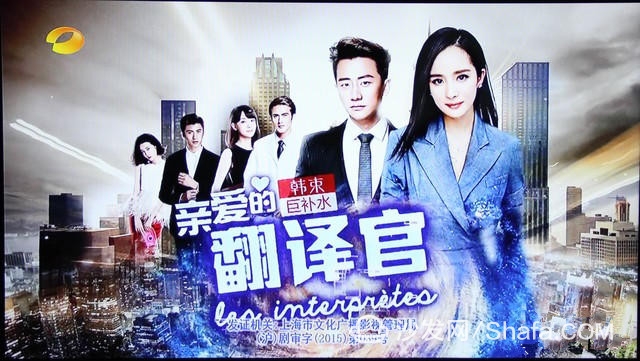 Mango Q Q6 TV Play Show
In terms of program resources, this box has almost no shortcomings. Now that major video resource providers compete for film sources, the era of healthy competition has come, and video vendors have gradually changed their membership prices from meaningless reduction to everyone. It is a good and healthy competition to fight strength, fight programming resources, fight renewal, and user experience. Internet service providers must consider the user's point of view to consider issues, tap the movie resources that customers need, and do more and more excellent products. Users who like to enjoy will naturally pursue good products and pay for them.
Game entertainment resources show
Based on the powerful hardware configuration of Mango Q H6, the game performance is also very good. When we unpack the product, we found a game props gift card called MT2. This is an online game. H6 can download this game's TV special edition, you can log in with WeChat, very convenient.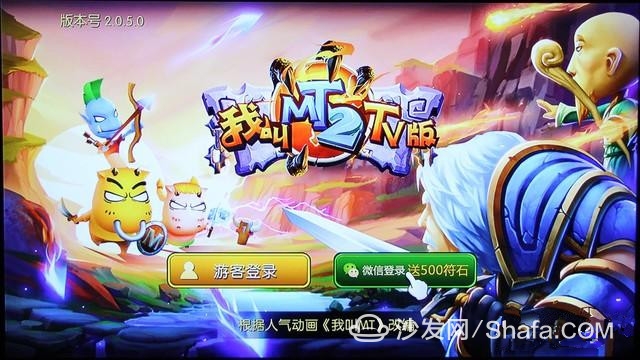 Mango Q Q6 game test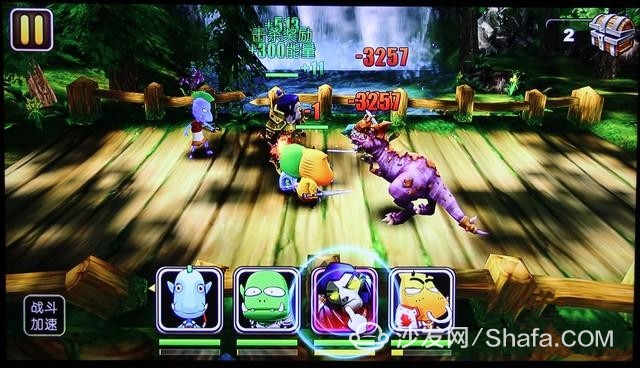 Mango Q Q6 game test
Mango Q Q6 is very rich in game resources, operation is very smooth, basically the game can be downloaded on the interface can be run smoothly, all thanks to the powerful hardware performance of this TV box, quad-core CPU and 1G of running memory, Already comparable to some thousand yuan mobile phone. You can use it as a game console in your spare time.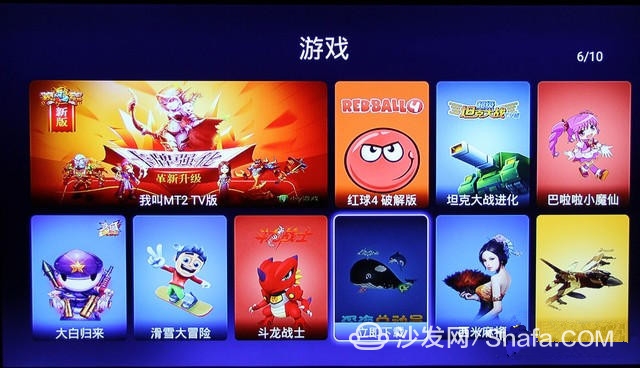 Mango Q game application download interface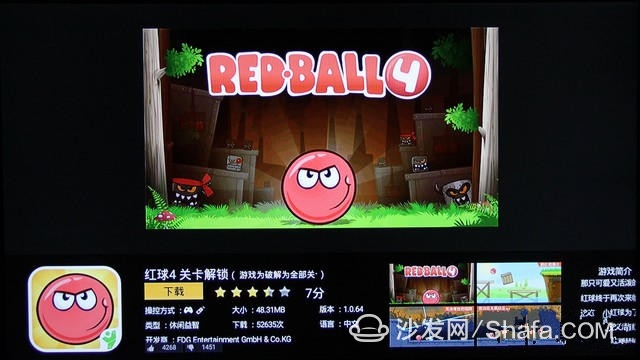 Mango Q Q6 game download interface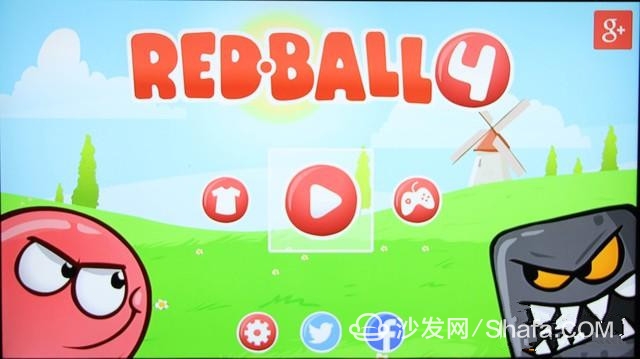 Mango Q Q6 game test
We tested the voice function when testing the mango Q Q6. The voice function of this box is very good, but the current function is only limited to the simple operation of searching and opening the application. If you have spare time, You can chat with it, and it is occasionally mischievous. There are also very simple and convenient operations such as pause, play, and next episode.
Bluetooth, voice display
Mango Q Q6 adopts the latest Bluetooth 4.0 technology. The advanced Bluetooth technology saves a lot of power compared to the previous Bluetooth function, which greatly enhances the life of the remote controller. Compared with the infrared remote control technology, the Bluetooth remote control technology is more free. Users do not need to aim, only need to be able to remotely control the box within the scope of Bluetooth, very free and casual.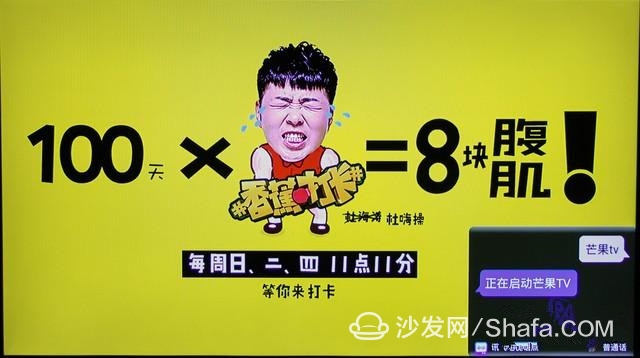 Mango å—¨ Q H6 voice function display
In the test, we found that the TV box's voice recognition is very high, there is no problem with a little accent, it will magnetically match the fuzzy sound, select the appropriate command to identify and operate, this mango Q H6 It can be said that it is one of the best products currently being made in TV boxes.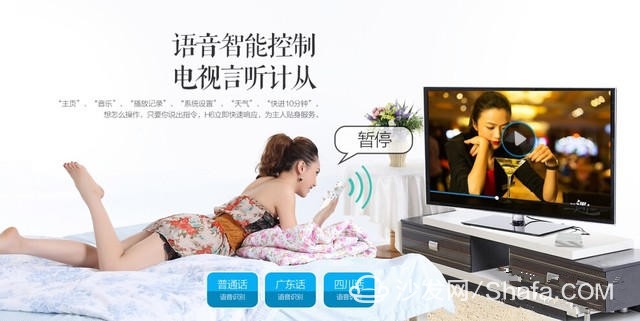 Mango Q Q6 voice function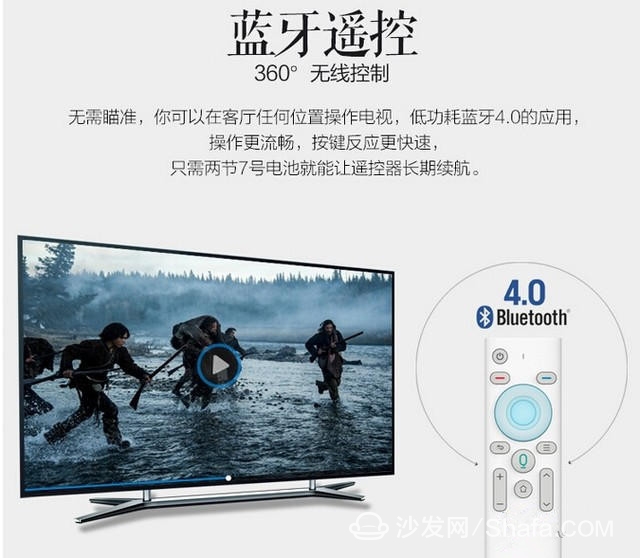 Mango Que Q H6 Bluetooth 4.0 Remote
In the actual use of many Internet TV products and high-definition TV box products, we found that if there is a Bluetooth-enabled box or TV, it is very easy to use. The Mango Q Q6 has a Bluetooth-enabled product that you can use to adapt it. Almost all Bluetooth-enabled external devices, including speakers, mobile phones, headphones, etc., Imagine a person watching the game in the middle of the night, afraid of affecting his family, even a Bluetooth headset solves this problem. Unlimited smooth connection technology is so easy to use.
4K and H.265 decoding display
Mango å—¨ Q H6 supports 4K video playback and H.265 hard solution technology. With the increasing size and resolution of TVs, in order to fully display the performance of television equipment, many TV box manufacturers have begun to The 4K playback technology was added to the box, so what exactly is the performance of this low-end TV box mango Q Q6? Let's take a look.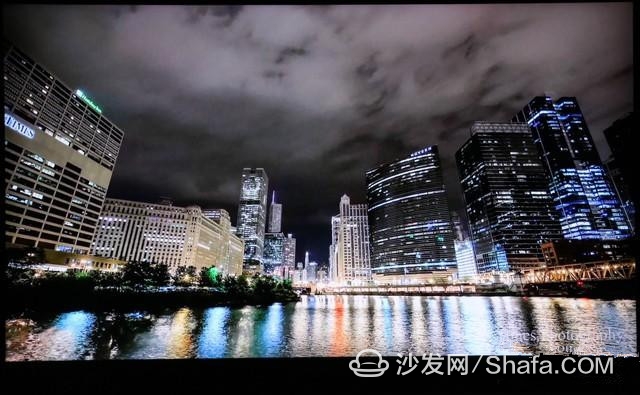 4K source playback test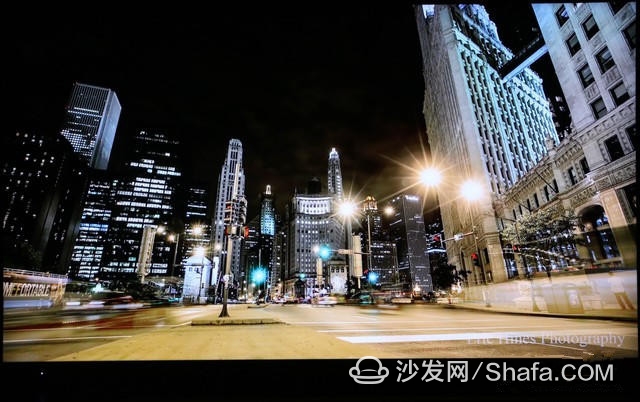 4K source playback test
We used two videos to test this mango Q Q6. A quintessential Beijing Opera video was larger. As a starting video, another Chicago night video was used as a transition to fast-forward and rewind operations. The video was switched during video playback. .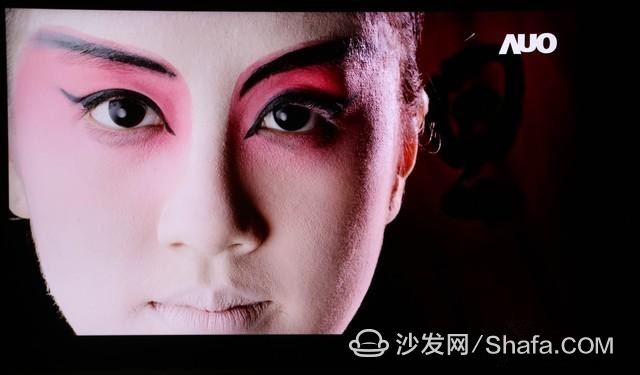 4K source playback test
The 4K playback performance of the mango å—¨ Q H6 is surprising. I can hardly imagine such a small box. The playback of 4K video is so rapid that there is no slightest falsification and smearing phenomenon. There is a slight delay in the opening. There is no unpleasant event in the playback process. The fast-forward and fast-back operation is smooth and smooth. The switching will still have some blocking feeling during video playback. However, it is very gratifying. Three or four thousand yuan 4K TV can not do this effect. The decoding is clear, the colors are bright, not very accurate, but very pleased with the eye, after all, it feels like it is the last word.
Mango å—¨ Q H6 H.265 Movie Area
H.265 is a new video coding standard developed by ITU-T VCEG following H.264. The H.265 standard revolves around the existing video coding standard H.264 to improve some related technologies. The new technology uses advanced techniques to improve the relationship between codestream, encoding quality, latency, and algorithm complexity to achieve optimal settings. Specific research contents include: improving compression efficiency, improving error recovery capability, reducing real-time delay, reducing channel acquisition time and random access delay, and reducing complexity. Due to the algorithm optimization, H264 can implement standard definition digital image transmission at a speed of less than 1 Mbps. The H265 can realize transmission of 720P (resolution 1280720) ordinary high-definition audio and video transmission at a transmission rate of 1 to 2 Mbps.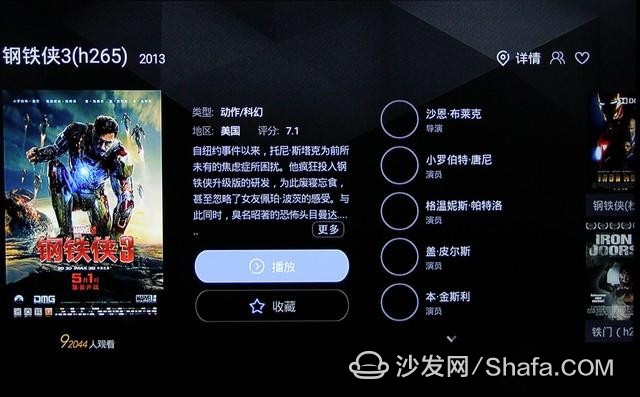 H.265 resource playback interface
Evaluation summary
In fact, in terms of a network TV HD player, Mango Q H6 uses a hard disk solution that supports hard H.265 and 4K chips to ensure outstanding performance. This guarantees outstanding performance and at the same time It is also extremely personal and it is a TV box with a very high cost performance. In terms of the overall viewing experience, the powerful performance of this TV box is just one aspect of it. There is a massive source support for Mango TV, as well as excellent game placement. The most dazzling detail of this product is the addition of Bluetooth and Voice function, do not look at these two functions is inconspicuous, but once skilled, will bring a new experience height to the entire viewing experience, whether it is convenient or entertaining are very good. The evaluation of today's mango å—¨ Q H6 is here, although this is a small product, but its small size contains a lot of power. I hope that my evaluation will give us a little help. At the same time, I hope everyone will point out my deficiencies and will work hard for everyone to make a better assessment.
KNL6,KNL8 Moulded Case Circuit Breaker is MCCB , How to select good Molded Case Circuit Breaker suppliers? Korlen electric is your first choice. All moulded Case Circuit Breakers pass the CE.CB.SEMKO.SIRIM etc. Certificates.
Moulded Case Circuit Breaker /MCCB can be used to distribute electric power and protect power equipment against overload and short-current, and can change the circuit and start motor infrequently. The application of Moulded Case Circuit Breaker /MCCB is industrial.
Korlen electric also provide Miniature Circuit Breaker /MCB. Residual Current Circuit Breaker /RCCB. RCBO. Led light and so on .
KNL6,KNL8 Residual Current Circuit Breaker
KNL6,KNL8 Molded Case Circuit Breaker,Small Size Molded Case Circuit Breaker,Electrical Molded Case Circuit Breaker,Automatic Molded Case Circuit Breaker
Wenzhou Korlen Electric Appliances Co., Ltd. , https://www.korlenelectric.com