Avago Technologies introduces the industry's first high-brightness round and oval LEDs for surface and exterior packaging applications for outdoor and indoor signage applications. A total of yellow, red, green and blue options, Avago's ALMD-xx3D round and ALMD-Lx36 round LED lights are mainly for full-color and monochrome traffic signs, highway variable information bulletin boards, gas station prices Labeling and advertising are designed with applications such as full-color TV walls.

With the popularity of LED lights in the market, more and more electronic sign design engineers are beginning to adopt LED products with higher cost performance, better performance, higher brightness and reliable long-term performance. These design engineers choose the surface. The reason for mounting LEDs is that they are easy to assemble, compact, and flexible in manufacturing, helping to reduce overall system design and development costs.

Avago's ALMD-xx3D circular and ALMD-Lx36 elliptical LED series have almost the same lumen strength as traditional high-brightness in-line LED lamps and can be assembled using common surface mount processes. The two perspectives are 30 o and 40 o x 100 o respectively. In addition, these LED lamps are also compatible with reflow soldering procedures and are manufactured using advanced optical grade epoxy resins for superior performance in outdoor signage applications. To simplify the pick and place process, these LED lamps are supplied in EIA-compliant tape and reel packages, each with a single luminous intensity and color product from the same production lot for better consistency.

ALMD-xx3D series and ALMD-Lx36 series LED lamps are now available in volume and are available in volume quantities through Avago's direct sales channels and global distribution network.



The Co-Al Co-doped Barium Titanate Lead-free Piezoelectric Ceramics was successfully developed by Yuhai company through repeated experiments. By Researching the influence of Co-Al Co-doping on the structure and properties of Barium Titanate-based piezoelectric ceramics, the formulation and preparation technology of Barium Titanate-based piezoelectric ceramics were optimized. Yuhai`s BaTiO3 was prepared by conventional solid-phase sintering method, with the piezoelectric constant d33 (>170pC/N), dielectric loss tgδ≤0.5% and mechanical coupling coefficient Kp≥0.34.
Barium titanate lead-free piezoelectric ceramics are important basic materials for the development of modern science and technology, which was widely used in the manufacture of ultrasonic transducers, underwater acoustic transducers, electroacoustic transducers, ceramic filters, ceramic transformers, ceramic frequency discriminators, high voltage generators, infrared detectors, surface acoustic wave devices, electro-optic devices, ignition and detonation devices, and piezoelectric gyroscope and so on.
Application: military, ocean, fishery, scientific research, mine detection, daily life and other fields.
China Patent of Yuhai company`s BaTiO3
Chinese Patent No.: ZL 2011 1 0126758.6
Name: Lead-free Barium Titanate Piezoelectric Material with Addition of Cobalt and Aluminum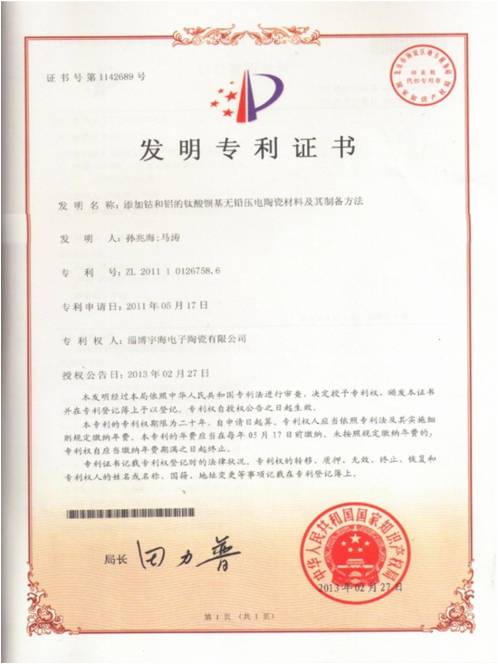 Lead free piezo material BaTiO3

Lead-free Material

Properties

BaTiO3

Dielectric Constant

ɛTr3

1260

Coupling factor

KP

0.34

K31

0.196

K33

0.43

Kt

0.32

Piezoelectric coefficient

d31

10-12m/v

-60

d33

10-12m/v

160

g31

10-3vm/n

-5.4

g33

10-3vm/n

14.3

Frequency coefficients

Np

3180

N1

2280

N3

Nt

2675

Elastic compliance coefficient

Se11

10-12m2/n

8.4

Machanical quality factor

Qm

1200

Dielectric loss factor

Tg δ

%

0.5

Density

ρ

g/cm3

5.6

Curie Temperature

Tc

°C

115

Young's modulus

YE11

<109N/m3

119

Poison Ratio

0.33
Lead Free Piezoelectric Elements
Piezo Element,Piezo Ceramic Elements,Piezoelectric Ceramic,Pzt Tubes
Zibo Yuhai Electronic Ceramic Co., Ltd. , http://www.yhpiezo.com