Opportunities and Challenges:
In China's civil lighting, there is a market value of about 40 billion yuan. The market has become the second largest energy consumption in buildings, accounting for 35% of the total energy consumption of buildings. It is an obstacle to change the price. The China National Institute of Standardization has started research. In addition to the price impact of the "China's phase-out of incandescent roadmap" project, the related standards are chaotic and the threshold is too low. "There is a domestic market for lighting. There is a market worth about 40 billion yuan." Philips Lighting ( Bishop, the chief executive of China, said that in the past few years, Philips has been acquiring, investing in, and developing green lighting, and spent nearly 4 billion euros on it.
At the end of last year, Philips Lighting also invested 60 million euros to build the largest fluorescent lamp manufacturer in the Asia-Pacific region in the Yizheng Economic Development Zone in Yangzhou, Jiangsu.
Coincidentally, the old graphics card manufacturer Elsa is also actively looking for new industry opportunities. Recently, Elsa announced that it has fully entered the LED green lighting industry. At the same time, it has also comprehensively adjusted its market focus, abandoning the past practice of focusing on European and American overseas markets, and turning the Chinese market into the focus of future development. .


China's market potential is the direct cause of the international lighting giants led by Philips. "Next, I hope that the government departments will improve the lighting energy-saving standards to promote greater development of this market," said a person in charge of the industry.
Energy-saving business data shows that lighting has become the second largest energy consumption in buildings, accounting for 35% of the total energy consumption of buildings, which needs to be changed.
"For example, an 11-watt high-quality energy-saving lamp with a price of 20 yuan is used. In its 6000-hour lifespan, it consumes 294 kilowatt-hours less than a 60-watt incandescent lamp with the same effect, saving more than 160 yuan." Qian Yingchu, general manager of Huazhong District, EMSI Environmental Management Consulting Co., Ltd. said.
To this end, the Chinese government has been spared no effort to promote the development of China's green lighting market. Support the accelerated promotion of high-efficiency lighting products by means of financial subsidies. According to statistics released by the China Lighting Society, the current sales of lighting products in China has exceeded 15 billion US dollars. Driven by the infrastructure construction of the Shanghai World Expo and the Guangzhou Asian Games, this figure is expected to exceed 20 billion US dollars.
It is also known that some cities are also pushing the development of the green lighting market. At present, cities such as Dongguan and Guangzhou have already tested the water contract management model (EMC) and vigorously promoted urban green lighting projects and industrial development. It is reported that Guangdong Province plans to raise 5 billion yuan of funds through the EMC Corporation of China's Guorong Xinhe Investment Co., Ltd., Guoneng New Energy Investment Co., Ltd. and Guoneng Zhiyuan Energy Saving Service Company to the market. As 5 billion yuan is mainly used to promote urban green lighting demonstration projects, LED lighting products as green lighting products will receive investment in this fund.
This move has attracted the attention and layout of lighting giants at home and abroad. In July last year, Elsa transferred all of Taipei Operations Center, graphics card and LED Green Energy R&D headquarters to the Beijing Economic and Technological Development Zone, and merged with Beijing Boda Guosheng Investment Co., Ltd. and MaxRayHolding (MH) to form Elsa. Optoelectronics Co., Ltd., fully enter the LED green lighting market.




In addition, the lighting giant Osram has once again expanded its production. The new Foshan new plant with an investment of 400 million yuan was completed last year and will be fully operational in 2010.
It is reported that the plant will focus on the research and development of green lighting products, and Foshan will become one of the largest production and R&D bases in Osram. GE Lighting is reducing the incandescent lamp business worldwide and correspondingly increasing the production of lighting products that improve the efficiency of lighting energy conversion. Foshan local company Zhaoxin Group is also a latecomer, gradually improving the LED lighting research and development, chip packaging, electronic control drive, lighting assembly, engineering applications, a whole industrial chain.
Strengthening the standard setting, but this "prosperous" market still faces some "diseases".
As early as June 2003, the Ministry of Science and Technology launched the "China Semiconductor Lighting Project"; in 2005, green buildings included green lighting for the first time in the national medium- and long-term development plan (2006~2020).
However, the promotion of green lighting is still difficult.
Price is an obstacle. Compared to ordinary incandescent lamps, the price of energy-saving lamps is often several times or even 10 times. At present, the price of a high-quality 11-watt compact energy-saving lamp is about 20 yuan, and the price of an incandescent lamp is only about 1 yuan. Therefore, government departments are promoting the application of energy-saving lighting products in the form of subsidies. "But this is not a long-term solution," Qian Yingchu said.
In addition to the price impact, the related standards are confusing and the threshold is too low.
It is reported that "the energy efficiency limit value and energy-saving evaluation value of tubular fluorescent lamp ballast" has been released for nearly 10 years, but it has not been revised yet, which seriously affects the upgrading of products. In addition to the product energy-saving standards, there are still some inadequacies in the energy-saving standards for lighting projects.




"At present, relevant product and engineering energy conservation standards have been approved by the National Standardization Management Committee, and revision work is underway." Zhao Jianping, a professor at the Chinese Academy of Building Sciences, pointed out that energy conservation standards need to be revised from reality. For example, in a small space, it is difficult to meet the standard of lighting energy conservation. Therefore, more broad policy support should be given.
In order to promote the development of green lighting, the China National Institute of Standardization has launched the "Research and Formulation of China's Roadmap for Phased Incandescent Lamps". The main content is to develop a roadmap for the phase-out of incandescent lamps and related policies to promote the green lighting market. It is expected that by June 2011, a series of research reports will be formed and roadmaps and policy recommendations will be proposed.




Distinguishing from the standard battery,we Hequanqingnuo technology shares you the iPhone High Capacity Battery which takes more advantages of long lasting,durable using and fabulous capacity.
Models are clarified according to higher capacity from standard IPhone Battery ,universal 2200mah for IPhone 6 Battery , Iphone 6S Battery ,iPhone 7 Battery and 3300mah for iPhone 6 Plus Battery,IPhone 6S Plus Battery,and Iphone 7 Plus Battery.
By using the global unified technical standards,our IPhone High Capacity Battery featured of original quality,greater capacity.From the original,capacity updates,incremental 385nAh~550mAh,life more durable.
Super battery still with 95% health after 400 times of internal charge and discharge experiments,it`s twice life span than the original one.Our Cell Phone Battery adopts the 2018 upgraded IC cell technology and uses the latest 0 cycle battery technology to make sure larger capacity and more durable using.The cell upgraded from the old single-layer ion to the polyenergetic ion cycle with stronger endurance.Other brand cell with single layer density of 300-400W/L,our lithium battery is with double layer density of 800W/L.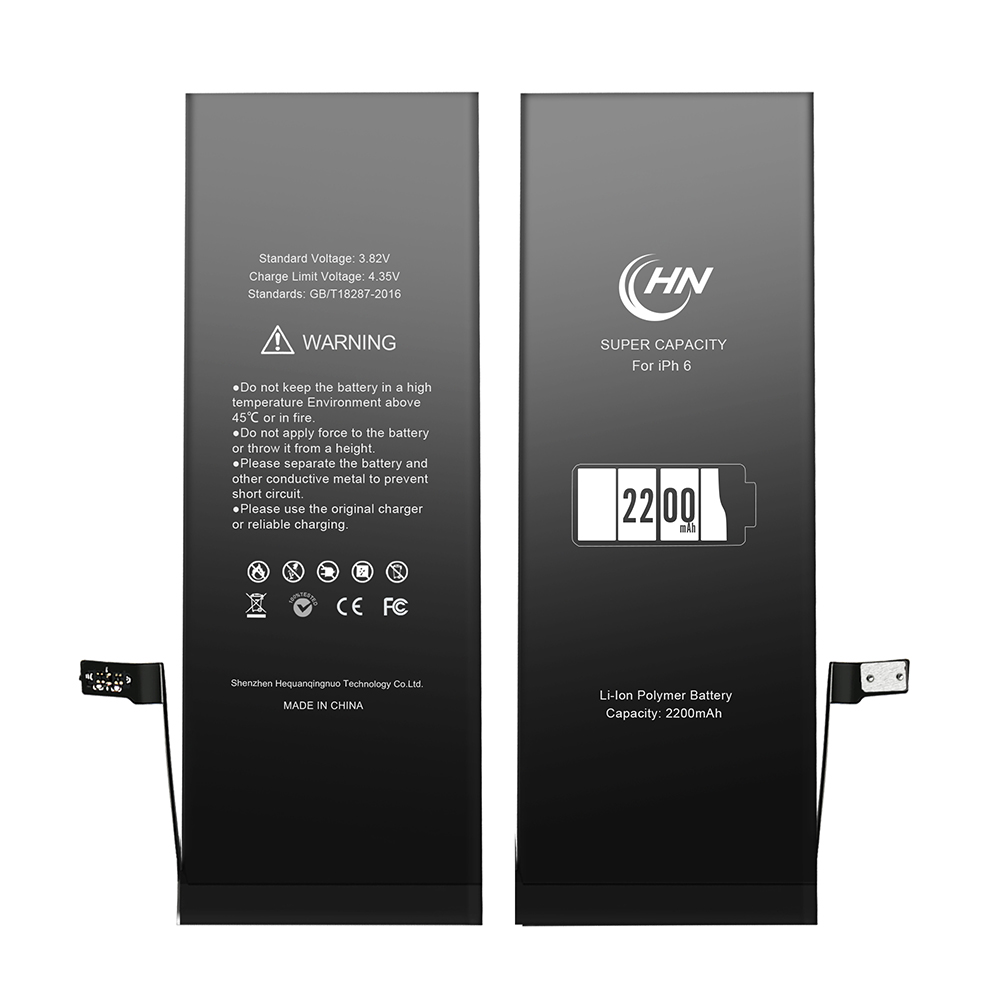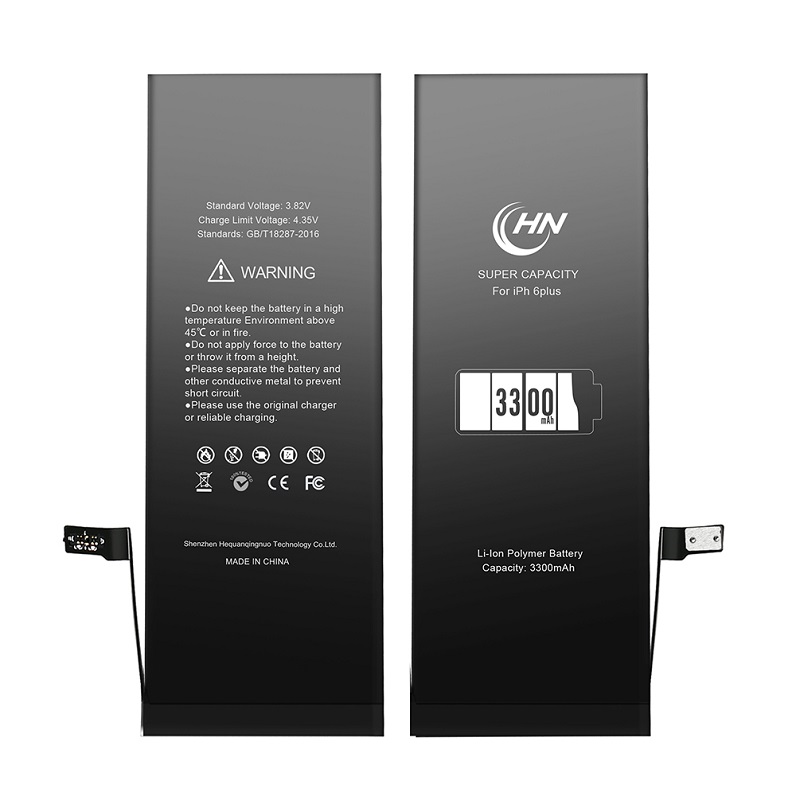 Iphone High Capacity Battery,Iphone 6 High Capacity Battery,Iphone 5S High Capacity Battery,Iphone 5 High Capacity Battery
Shenzhen Hequanqingnuo Electronic Technology Co., Ltd. , http://www.hqqnbattery.com